by Schubert Lovenkraft
Freelance Writer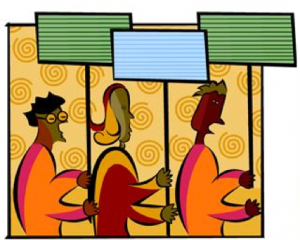 Chanting, "Ho, Ho, Hey, Hey, we deserve a 401K," Humanities graduate teaching assistants marched on the Carver Administration Building today after voting overwhelmingly to unionize.
"Look at me!" said a beleaguered Dylan Hawthorne. "I started grad school in the 90s. I should be thinking about retirement and I haven't even taken my comps yet."
The College of Liberal Arts has steadfastly opposed these demands.
"When students are motivated, they find a way to finish their degree . . . or they leave," said Assistant Dean Lorna MacElvane. "If they would put all their energy into deconstructing texts and not working two jobs we wouldn't even be having this conversation."
But as the average Ph.D. time-to-completion increases nationally, some have become more sympathetic to graduate students' concerns.
"They care a lot for us as students," said Amanda Screedles, a junior in communications. "I've dated three TAs since I came here and they've all been so interested in how I am doing. None of my professors treated me that way, even when I invited them for coffee."
An unnamed source suggested that graduate TAs might organize a "sick out" during final exams if the university didn't agree to negotiate. However, a faculty representative indicated that they would not be blackmailed into collective bargaining.
"As long as students don't get a D or an F no one is going to care," suggested Dr. Franklin Higgins, Professor of Culture Studies. "As long as we win our bowl game this will all blow over."
As of late this afternoon a small but fervent group of protestors continued to carry signs and chant incoherently outside Carver Hall. Some claimed the group had been much larger until the American Studies students realized they'd left their weed in their other jacket.