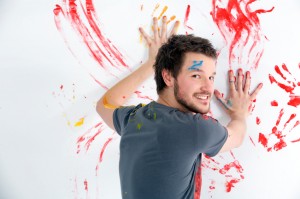 According to officials at Green Mountain State University, Resident Assistant Chris DeJackson's training camp hold out continues into its fifth day. DeJackson refuses to return to training camp until his contract is renegotiated to his satisfaction.
"I've been an RA for one year," said the junior. "Even though there's one year in my contract I want a long-term extension so I can make sure my senior year room and board are covered. I have to think about my long-term well-being, not just my immediate needs."
Speaking on behalf of DeJackson, his mother Louise made additional demands. "As a returning RA Chris made a reasonable assumption that he would be assigned to the third floor of the newest dorm,  Bachmann Hall. It has the extra six inches of floor space he needs to fully focus on his school work, and a nicer view of the parking lot which would be a proper reward for his status as a returner."
"We have 30 returning RAs on our staff," said GMSU Director of Residence Life Marla Wooten. "It would be impossible to give all of them their first choice of rooms. In the meantime, the staff needs Chris to return so they can practice the procedures and drills that will be part of our new game plan this year."
"We've been told we'll hear something from the campus this afternoon," said Mrs. DeJackson.
"I need a firm answer," said Chris. "If I can't get what I deserve I want to be released so I can go to the orientation staff."