by Schubert Lovenkraft
Freelance Writer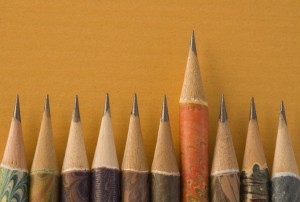 After months of stupefying repetition, undergraduate research assistant Thomas Floyd, 19, emerged from the Nelson Physics Laboratory this afternoon to announce that his faculty supervisor, Dr. Demetri Schulman, had declared his 4,394th sharpened pencil "perfect."
"I'd like the thank the academy," said a humbled Floyd, "for creating an educational experience that let me sit in Dr. Schulman's lab storage room and sharpen pencils day after day until I got it right."
Spartan University introduced the Sisyphus Scholars Program last year to provide enterprising undergraduates the chance to work with senior faculty on funded research projects while earning academic credit and a small stipend. While students have reported a wide range of intellectual experiences, some faculty remain ambivalent about the program's benefits.
"It is at times difficult to find tasks that match the students' knowledge and interests," said Dr. Raymond Blazes, chair of the Physics Division. "But most of our faculty seem to have found ways to keep students busy with a project they can take pride in later."
"Its been much more demanding than I expected," said Floyd. "I never realized how many pencils a real professor goes through. I just thought everyone knew how to use email by now."
When asked what he will take away from this experience, Floyd seemed circumspect. "I'm sure I've learned a lot. I'm just too tired to be more specific right now. I guess I'm not as scared of the dark as I used to be."
Despite the grueling demands of the position, Floyd indicated that he would likely apply for the position again next year.
"I think eventually he'll talk to me. Maybe he'll even ask me to get him coffee," said Floyd of Schulman.
Dr. Schulman, on the other hand, seemed less certain. When asked if he was proud of Floyd's accomplishment, Dr. Schulman only grunted, "Who?"