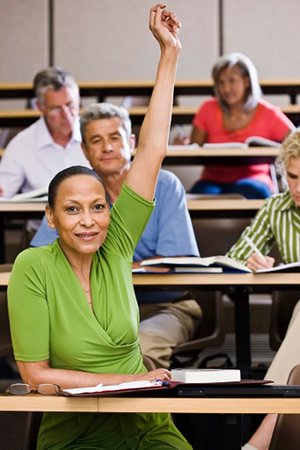 Attendance in Professor Randall Everett's Biology in Motion seminar has skyrocketed as students await Hannah Kearns' historic 700th consecutive answer to Professor Everett's questions.
"I usually sit in the back so I can avoid Dr. Everett's boring questions," said Kearns' classmate Jacob Roy. "Lately I've been sitting closer so I can be there to witness the big 700. I have to get there early because a lot of students have started auditing so they can see her in action."
"I don't know how Hannah does it," said another student. "I swear most of Dr. Everett's questions are rhetorical but she always has an answer. It's amazing."
Some students are not as thrilled with Kearns' performance.
"She gets all the attention, but there are other people in the room, too," said Pamela Montador. "All this attention kind of takes the spotlight off team performance and puts it on one person."
"I'd love to call on other students," said Professor Everett. "As it stands, though, Hannah is the only one who participates. When she does she usually hits it out of the park. She's been an excellent role model for academic citizens."
Is it possible that Kearns could keep going and reach 800?
"I need to just take it class by class for now," said Kearns. "I can't start thinking about 800 until I reach 700 – God willing."
The campus website has a live feed from Biology in Motion so the world can witness the historic moment when Hannah reaches her milestone.