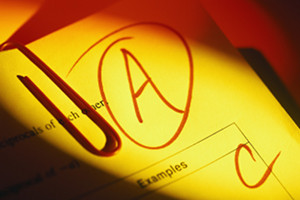 "There's still a long semester to play out," said Tamara Brady after Professor DeLeon's first major exam in Viking History. Honors student Brady was expected to ace the test but received a C+.
"Tam's performance was a shocker, and the exam was admittedly so difficult that no student scored an A, but I was more than surprised by the two high scorers." said DeLeon.
Bill Gailey, a regular in the Financial Aid office because his parents never pay enough tuition, scored a solid 84% on the exam.
"I'm always so stressed about money I've never been able to afford tutoring or sometimes even books," said Gailey. "No one ever expected anything from me but I have a lot of heart. I got an A on the first Viking History quiz and everyone thought it was a fluke. The second quiz was the same. I got a 90 but no one thought I was for real."
The second student to emerge from exam week with a 3.0 record was Matt Ford. Ford is currently on academic probation, having earned a cumulative 0.2 GPA last year.
"We expected Matt to come back from his humiliating year with fire," said DeLeon. "I must admit, though, that when I saw him on my roster I didn't really believe he'd be leading the pack as we head into midterm season."
"It's not fair," said Kandy Sheedy, a student who made the Dean's List last year despite receiving incompletes in two classes that she knew she was going to fail. "Matt and Bill are losers. One is poor and the other one is from a bad part of town. If they make the honors list it will be an embarrassment to the whole university."