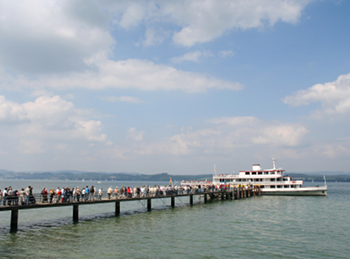 Newport Maritime College's President K. C. Gitterdone III announced a restructuring of his senior cabinet today in response to the criticisms leveled by the Work-study Task Force (WTF).
"I had no idea that Newport Maritime's high need students felt so disconnected from the majority of our student body," said Gitterdone as he prepared to christen the college's newest yacht with a bottle of 1956 Dom Perignon. "These students need a rudder – someone to help them raise their sails and get out into the open sea. So today I am announcing a new senior position to do just that."
The new position will be called the Associate Joe Schmovost and will have dual reporting lines to the Senior Executive Rear Admiral Provost (another newly created position) and the Director of Cabin Boys. The Associate Joe Schmovost will be responsible for connecting with work-study students and help each financially needy student find a place in the world.
"I want everyone one of these students to aspire to lofty goals," said Gitterdone. "Instead of scrubbing boat hulls and deck chairs, I want them to aim higher. There's no reason each of them can't eventually go from Poop Deck Page to Galley Chief."
Despite the good intentions, some administrators seem ambivalent about the move.
"I'm not sure that putting one person in charge of this endeavor will make much difference, despite the catchy title," said one senior admissions counselor who refused to be identified. "Many of the students we accept would rather get a rejection letter than find that their aid package includes work-study."