by Shubert Lovenkraft
Freelance Writer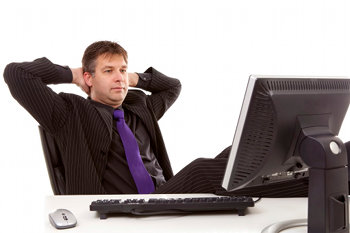 This fall hundreds of senior administrators will announce strategic planning initiatives in an effort to transform the mission for their college, division or department. In most cases, however, these efforts will produce nothing more than an unintelligible blur of jargon and platitudes.
While technology can't solve everything, at least it can make generating meaningless tripe more efficient. Google has introduced G-Vision, a random word-sequence generator specifically designed for strategic planning and mission statement development.
"Its web-based and fully integrated with Google's higher education search engines," announced CEO Eric Schmidt. "We can make your new plan say anything – even better than the last Pat King article in About Campus."
Users are asked to select a document template that best reflects the mood of the college – $$ for most colleges, $ for community colleges, and a Nike swoosh for Oregon. Then the application asks for the top ten words or phrases that the user would like to see in the document. After linking to the institution's IPEDS, NSSE, and CIRP data, a strategic plan or mission statement can be generated in as little as 30 seconds.
"What a fantastic timesaver!" exclaimed Sherrie Doppelgangster, Vice President of Student Services and a beta-tester of the G-Vision application. "This app made it so much easier to get the planning process out of the way so that I could do what I was going to do anyway."
Apple is rumored to be developing a competing smart phone application that can generate an instant and unique mission statement as a twitter feed.