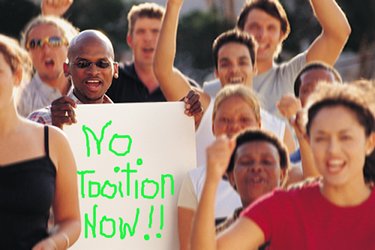 Students from around the country, inspired by the grassroots Occupy Wall Street movement, have taken the protests to their local campuses to make a positive change.
"A lot of student 'activists' are doing fundraisers to send money to support the Japanese tsunami victims or the Americans devestated by hurricane flooding this fall," said Teakwood College sophomore Amy Scandrick. "I'm sick of giving money for causes, food vendors or even tuition."
Scandrick and a dozen of her friends sat out at the Tweakwood Liberty Tree all weekend plan to skip classes to demand free dining privileges and a full tuition refund.
"Amy told us about people around the world standing up to corporate greed and we want our part," said Melinda Branch. "I'm tired of paying for classes that I can never pass and if I sleep through breakfast and lunch I deserve a full refund of my meal plan."
Scandrick says she has not paid close attention to the goals of the Occupy Wall Street movement but understands her role with absolutely clarity.
"I don't believe in newspapers," said Scandrick. "It's all part of a corporation that wants my money. I just know people are missing work and getting their pictures taken. That's something that all of us can do to help our communities."
"My professors aren't supporting my effort to bring social justice to the world by skipping class. Even though the talk about it in my courses the profs have all these arbitrary rules about attendance and 'performance,'" said Branch. "I'm not a monkey and I don't perform for anyone. This is just another example of how education is actually just an arm of corporations."