by Brody K. Truce
Senior Staff Writer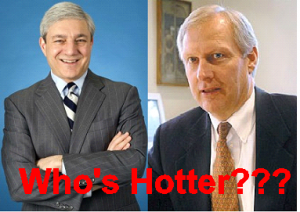 Last night, the Penn State Board of Trustees voted to oust President Graham Spanier from his post, replacing him with Executive Vice President and Provost of the University, Rodney Erickson.  While Twitter and Facebook bubbled with speculation about what the change in leadership would mean for Penn State, at least one website asked the truly important question:  "Who'd you rather?"
Just hours after the change in leadership, pennstatehotornot.com posted pictures of Spanier and Erickson and invited students to rate the attractiveness of their current and former presidents.
Early results show Erikson as having a 12% lead over Spanier with 62% of the vote.
"I like his hair," remarked Britney Stauffer, a first year marketing student.  "Its so white and fluffy."
Kent Silverman, a junior majoring in meteorology, favored Spanier.  "I think his jowls are more distinguished."
The online debate has spilled onto Penn State's University Park campus, with men and women alike spotted wearing, "I have a Rodney for Rodney" t-shirts. Want to join the debate?  Get your shirt here today!
LINK: http://www.printfection.com/brodysduds/The-Rodney-Shirt/_s_472940