by Salinas Chick and Cynewulf Allworthy
Freelance Writers
In celebration of National Satire Month, we're excited to introduce the title character of the upcoming novel College Leadership in Crisis: The Philip Dolly Affair.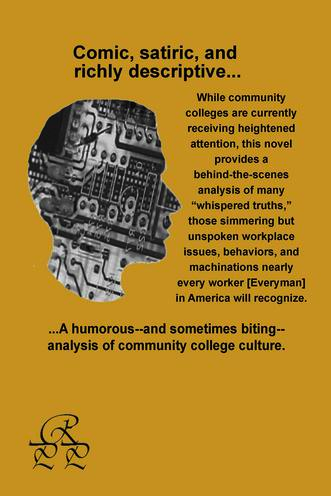 Dr. Philip Dolly, President of Southeastern Copperfield Community College in Hamilton City, Northern New Mexico, has ordered a stoppage of all instructional activity. Copperfield will focus their complete energies on rewriting the institution's mission statement and strategic goals.
A leaked copy of Dolly's speech written for tomorrow's announcement to campus leaders and members of the press provides insight into the radical change.
This is the 21st century. Academics are fully supported by technology and ancillary programs. The public wants transparency, accountability, learning outcomes— successful and buzz-rich, corporate stuff. I'm convinced that, with the right vision statement we can divorce ourselves from the grades 13-14 ashtray image and become a globally recognized higher education leader [and receive yet another Bull-Pucky Quality Award].
Our Stakeholders want their money's worth. They want to see synergy between our mission and action plans. I want our staff to be accountable and to show they're worth every penny of those salaries. I've got 32 Vice Presidents, each earning 170K a year. I've got 56 faculty who average 98K. This brain power needs to work. Organizational learning is far more important than academics—ask any college president in the country. We are who we thought we were.
[Add thundering tone here] Our state-of-the-art online classes are fully automated. We have teachers of record, but our residential faculty spends most days preparing for potlucks or baby showers or commenting on Facebook. Yes, these are critical social networking opportunities which facilitate collaborative ventures and friendly hallway conversations.
Clearly college stakeholders demand extensive travel budgets, conference attendance and financial support for all college employees pursuing the doctorate degree in educational leadership.
Halting all instructional activity will also enable the college to better achieve its performance objectives. Anticipating the Higher Learn-Ed Commissar's visit [vital for Copperfield's re-accreditation], the college is ever-more committed to continuing the great community college tradition of celebrating best practice theory. To provide evidence of learnedness the college needs time and student-free space to produce infomercials enhanced by videotaped dancing and singing deans.Other sustainable activitiesdemonstrated by the "avatar-friendly" administration remaingrounded in futile committee work and senior leadership's historic ability to create, retreat, table and heroically manage crises events and calls for healing.
By giving the students an unscheduled vacation we can get more accomplished. I have heard many faculty members say this would be a great place to work without the students—and finding a parking spot will be so much easier!
[Add, depending on reaction from crowd.] What is more important—organizational learning, mission statements or students? Ha! I don't know about you but I like my salary!