by John Dolphin
Sports Writer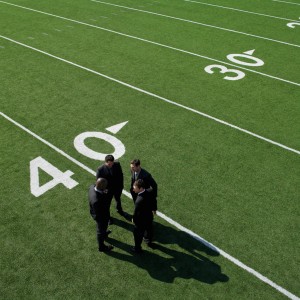 KENSINGTON, Pa. – Police, college officials and the NCAA are investigating an unexpected act of mob violence following Kensington State University's Saturday football game.
In a last-minute comeback, the KSU Eagles football team squeaked past the Saint Hubert Terriers, delighting the home crowd and inspiring one fan to storm the playing surface.
According to witnesses, 19-year-old sophomore Brian Jensen rushed onto the field, heading for the south end zone. He reached the padded base of the goalpost and pulled on the fixture by rocking his body. Jensen struggled to wrestle the post to the ground for several minutes before security personnel used tasers and pepper spray to subdue him.
Police reports indicate that Jensen caused $5.64 of damage by gouging the synthetic covering of the goalpost with his fingernails.
"I'm shocked by this mob mentality," said Dean of Students Carl Rand. "I've appointed a task force to create at least eleven new policies to make sure this never happens again."
Task force chair Julian Barnhard has called an emergency meeting for Monday morning.
"We'll start by coming up with new policies regarding walking on the turf, getting too excited at games, vandalism to goal posts and vandalism to the foam wrapper on the goal posts," said Barnhard. "We never anticipated something like this could happen here but if we make enough rules – maybe a hundred or more – we'll restore the type of intellectual community we strive for."
"I'm excited that we might have metal detectors and body searches when we come into the stadium from now on, just like USC," said freshman Jodi Mezza. "It feels like I'm at a real college now."