by I.M. Knott-Tawkin
Freelance Writer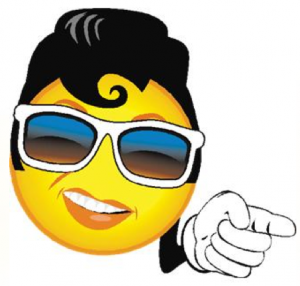 Do you feel helpless over your use of emoticons? Do you find yourself spending more and more time thinking of ways to avoid writing using the traditional alphabet? Does a traditional text message – or even drawing a stick figure to express yourself – seem an overwhelming task?
When you think of your own emotions, do you visualize smileys, frownies, or even red faces with horns or green faces resembling extraterrestrials of the 1950s?
If so, don't despair. Help is on the way. Students at Xavier Yaslow Zunibar University will embrace a new self-help program next semester on Tuesday nights—and the first of its kind in the nation.
Joining the chapters of AA and OA on campus is the new and fledgling chapter of Emoticons Anonymous.
Facilitator John M., a veteran of almost every other self-help group offered on campus says that addictive behaviors are not only contagious, they are themselves addictive. He successfully passed through many years in AA before turning to OA then NA then AAA (an auto club, during which time he became a traveling addict and prone to car breakdowns). He was also irresistibly drawn to tow trucks and repair shops charging exorbitant prices. Reaching rock bottom for the fourth time – and ultimately having given up alcohol, food, drugs and driving, he tethered himself to the Internet, where the sinister world of emoticons beckoned.
"People think they can handle emoticons at first," John M. warns. "It starts small, like a smiley after you mildly rebuke someone. And that means 'no harm intended, really' – and that's the first of the lies." And then, the temptation mounts. "You add frownies and emoticons that people have never seen before. Your friends and family become puzzled, and your behavior becomes increasingly unpredictable. Soon you are thinking in and dreaming with emoticons. With each new version of Gmail or Yahoo mail or Word you forget the keyboard entirely, focusing on the silly little faces available. You may even resort to simply sending an emoticon in conversation with friends, or a whole string of them in a row. Those binges can be fatal."
Sadly, John M. does not think full recovery is possible and that strict abstinence is the only hope for a sane life.
"That is a minute-by-minute battle," he admits, "even second-by-second."
When asked about his T-shirt, which had a smiley on the front and a frownie on the back with the do-not sign struck through it, he became defensive. "If I don't wear these, people won't know what I'm talking about!" John lowered his voice and calmed himself, sharing that the serenity prayer, which John once translated into emoticons before he admitted he was powerless over them, anchors him in the here and now.
"Collectively, the nation, even the world, is veering dangerously close to that rock-bottom moment," he said. "This group is the first of its kind, and I hope it will spread before the tipping point."