by Alice P. Hawthorne
Staff Writer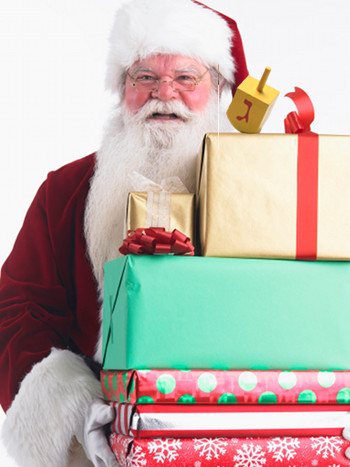 Jewish faculty, staff and students at North State University recently learned via an intercampus memo that Christmas trees, nativity scenes, and photos of Jesus dying for their sins on the cross are all considered "secular seasonal displays" by NSU administrators.
In a memo sent Tuesday titled "Deck the Halls with Tasteful, Non-Litigious Images," NSU President Rich Showalter stated that the Supreme Court on down had ruled that Christmas trees are defined as secular images of the winter season.
"Such a relief," said Dr. Mark Goldman, professor at NSU. "All this time I felt I was going against my beliefs whenever I walked into my departmental office to see a 6-foot tall balsam fir with a golden angel on top and a toy train running beneath it. Since you would see that in nature from after Thanksgiving through the first week of January it is completely okay with me to have it hovering over our front office desk."
Of course, NSU has been careful to represent other beliefs, as well.
"Last year they asked if I could bring in a menorah to supplement the wreath, snowmen, candy canes, nativity scene, gift-wrapped boxes and musically-timed LED display Santa Claus in the Admissions lobby," said Admissions Assistant Director Rachel Shulovitz. "I brought one in even though Hanukkah fell in November that year. They put red and green candles in it and stuck it on the fake fireplace mantel between the stockings with all of our names glitter-painted on them." The mantel was protected from dripping wax by a traditional Kwanzaa mat underneath the menorah.
Signs of the season abound throughout the campus outdoors as well. "Evergreen trees are on campus year-round…that's why they're called evergreens," the memo said. "We hang lights on them as a safety measure—some of them are over very dark walkways–and to represent the glowing light of hope during this holiday/winter/finals season, of course."When asked how pictures of the Virgin Mary and Baby Jesus overlooking the campus parking map or paper angels lining the public bathroom doorways could be considered seasonal, Showalter shrugged. "I don't know, because Jesus is…everywhere in every season? Wait, that's not what I meant. Are you going to print that? Don't print that."
Muslim members of the NSU community were similarly glad to learn that the dining centers were not showing bias by not serving meals after sundown during Ramadan; they were simply complying with the directive not to provide special meals for religious reasons. This decision was reached at a committee meeting during the annual NSU Fish Fry that happened to be scheduled during Lent.