Diana Senechal
Freelance Writer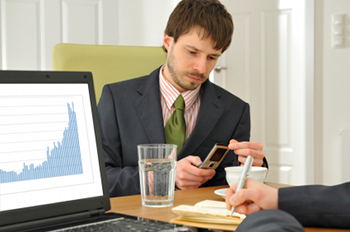 The Marketability-Mometer® may sound like a mouthful, but at Pecunia College, it has started to influence what comes out of students' mouths.
Developed by Disruptive Innovation, LLC, the Marketability-Mometer gauges an individual's instantaneous marketability and displays results and trends on a screen. In the college classroom, it allows professors to gauge students' group marketability at the moment and over the course of a semester. If it dips too low a professor can adjust the class activities, lectures and assignments on the fly.
"All too often, students graduate from college, start applying for jobs and find that no one will hire them," lamented Ruth Laruth, head of public relations at Disruptive Innovation. "This product allows them to find out where they stand and make changes right away. It puts them in charge."
The Marketability-Mometer records speech and translates it into text, which it then scans for marketable and unmarketable words. It combines the speech rating with rating of other data, such as resumes, writing, clicker activity, Facebook statistics, facial scans, blood pressure and GPS information. For instance, an individual's rating might go up slightly as he or she approaches the business center of town.
"The algorithm is research-based," said Laruth. "It has the potential to transform education and daily life."
Ken Burns, a sophomore at Pecunia, discovered that his rating went up by fifty points if he said "paradigm shift" in class and three or more students clicked a "like" button on their clickers. It went down by several points if he said a word in Latin.
"Knowing an obscure language doesn't make you marketable," explained Laruth. "Marketability is all about communication."
Pecunia intends to use the Marketability-Mometer to determine which courses are improving students' marketability and which are not.
"Those that aren't will be dropped immediately," said Winston Taylor, dean of 21st century affairs. "The instructors will stay – at least for now. There's always something useful they can teach."
While some professors have derided this initiative as "mechanistic and mercantilistic," others have found ways to best it.
"My students' marketability rises steeply if I mention 'bottom line' in class," reported Professor Laura Uriel, who teaches a seminar on Shakespeare's sonnets. "So, for instance, I'll say something like, 'The bottom line is that if there is indeed a legal metaphor in Sonnet 30, it's a strange one.' Then we're good for the day. It's clunky, but it keeps the course alive."
The Culver Daily has submitted a FOIL request for each course's end-of-semester marketability rating. Pecunia intends to comply. "This will help students get on the right track," said Taylor. "They won't have to agonize about choosing the right major. They'll know what works. And that's powerful."
Not all students share Taylor's enthusiasm.
"Whoever made this thing has no understanding of etymology," bristled Carrie Deleuze, an English and philosophy major. "Yes, I said 'etymology.' Yes, I saw my marketability go down. And I will say 'etymology' again."
But Disruptive Innovation takes such attitudes in stride.
"That's part of the flow," said Clyde Struck, lead quality assurance engineer for the product. "There's something in me that doesn't like it, either. Sometimes, when I'm testing the Mometer, I get a kick out of bringing my rating down by saying something in Russian or, let's say, unfriending a celebrity. But that's part of my job. I don't have to worry. These college kids, too, they feel secure right now. But once graduation comes nearer you'll see them choosing their words strategically. And that's the brilliance of it."
—
Diana Senechal's book, Republic of Noise: The Loss of Solitude and Schools and Culture
, was recently released by Rowman & Littlefield Education. She is the 2011 recipient of the Hiett Prize in the Humanities, awarded by the Dallas Institute of Humanities and Culture.