by Con Chapman
Freelance Writer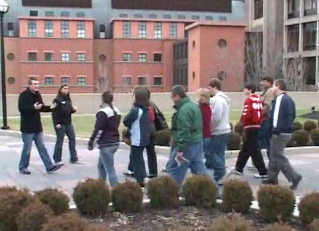 ABILENE, Texas. Ryan Simmons is, to all appearances, a slightly scrawny high school senior with no particular athletic ability, but he's drawing attention from top colleges across the country as recruiting season swings into high gear.
"I don't know what it is," says Ryan's mother, Pearl, a municipal employee. "He was drum major for the marching band all four years, so he never even put on a jock strap outside of gym class."
Ryan has a talent prized by college admissions officers–the ability to walk backwards in a straight line at a regular pace while avoiding people, plants and inanimate objects and talking at the same time.
"Ryan will probably end up at a big school like Alabama or Michigan," says Jim Stampfeld, a writer who follows the college tour guide recruiting scene, "but he can basically write his own ticket wherever he goes."
Ryan is projected as a freshman starter for the tour guide squad at whatever school he attends, as colleges find that a fast first step backwards and an ability to climb stone steps in reverse are critical factors in luring impressionable high school students and their parents to a campus.
"I couldn't believe that guy," says Mykal Woods, a senior at Forest Park High School in St. Louis about James "D Train" Glenn, a consensus All-American tour guide at the University of Kentucky. "He said he'd take one more question about the student union, he answered it with one word and he was gone down a brick pathway to Rupp Gymnasium."
Amanda Weiss-Webb of Brandeis University is representative of a new breed of campus tour guide who has used weight training and off-season conditioning to turn herself from a walk-on her freshman year to a potential lottery pick when museums and art galleries tap top college back-pedallers on Draft Day.
"Last summer I did everything backwards," says Weiss-Webb. "Ate dessert first, broke up with a guy before I slept with him, the whole nine yards."
The only knock against her is a tendency to draw illegal contact penalties in passing situations. "When it's near the end of the tour and kids make a run for the bookstore to buy sweatshirts, she'll bump them at the line of scrimmage," says Al Groe, head scout for the Whitney Museum in New York. "She needs to learn to release and talk to the parents. They're the ones who write the big checks."
***
Con Chapman is the author of two novels and The Year of the Gerbil, a history of the 1978 Red Sox. His humor has appeared in The Atlantic, The Boston Globe and on Salon.com, among other places. He blogs at conchapman.wordpress.com.