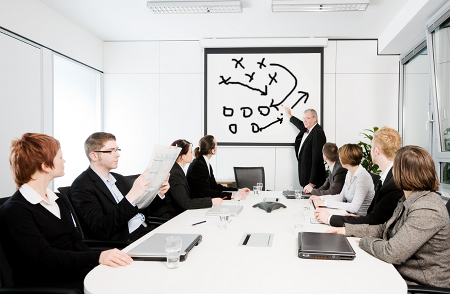 by Con Chapman
Freelance Writer
DANVILLE, Illinois. It is a problem that bedevils colleges across the country, with some saying it threatens the future of higher education in America.
"If this school was a business, it'd be in Chapter 11," says Ted Clavell, a trustee of Upper Peninsula College in Keweenaw, Michigan, who has given gifts in the high-six figures to his alma mater over the course of his life, but is starting to draw the line. "I want to see increased productivity," the flange and flywheel magnate says to this reporter. "We've got guys who only teach two courses a semester, and they complain that they're overworked."
So Clavell and other businessmen-turned-educational experts are looking at the records of college administrators across the country to see if they can inject a little competition into the sleepy business of handing out credentials to post-adolescent slackers. And one up-and-comer who has caught their eye is Norbert Duncan, President of Vermilion County Junior College here, who has successfully installed a "no-huddle" approach to academic life.
"What Duncan has done at Vermilion has revolutionized the educational game," says Bob Gamulski, national reporter for CollegePrezProspects.com. "He's able to score almost at will against other schools because he doesn't let his faculty get balled up in woolgathering."
Duncan's transformation came after a two-hour faculty senate session that got off track with a dispute over whether faculty senate by-laws took precedence over procedural rules for the meeting itself. "That's it," Duncan said, after Theodora Mangel-Wurzel, an adjunct writing instructor, raised a point of correct usage to a previously-raised point of order. "Everybody back to your classrooms—no more meetings!"
Faculty dispersed to the actual work of teaching, catching students by surprise. "I hardly had time to catch my breath," says Wayne Goshen, who was sitting in the student lounge playing a four-handed game of Hearts with friends. "They threw a new look at us—work," he says. "It was sneaky, but I guess it was legal."
The "no-huddle" offense faces resistance in the form of institutional inertia and in some cases collective bargaining agreements, which make it difficult if not impossible to eliminate faculty meetings entirely.
"It is our one opportunity to come together in a collegial atmosphere and waste time," says Ira Gabler of Northeast Missouri State University. "We're so isolated sleeping by ourselves in our offices."
***
Con Chapman is the author of two novels and The Year of the Gerbil, a history of the 1978 Red Sox. His humor has appeared in The Atlantic, The Boston Globe and on Salon.com, among other places. He blogs at conchapman.wordpress.com.