by John Dolphin
Staff Writer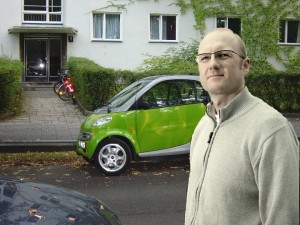 Dr. Neal Gregory, professor of sociology in the Gellman School of Humanities has made a recent purchase that caused some waves on his small campus.
Over the break, Gregory purchased a new vehicle. The faculty parking lot is now home to a blue 2010 Smart Car. The miniature vehicle has garnered some campus attention based on its relative size, but Dr. Gregory has also found ways to work the purchase into casual conversations and even classroom lectures.
Some of his peers suspect that the purchase was motivated by Gregory's lack of professional success. It is rumored that Gregory was recently turned down for tenure. Others cite poor student reviews on the popular website ratemyprofessors.com.
According to an anonymous source, "Neal's male-pattern baldness is having a severely negative effect on his hotness rating."
Students believe Gregory's Smart Car purchase has more to do with intellectual insecurity.
Sophomore Allen Jenkins says, "He is constantly asking his classes if we understand him. I think that if he were confident in his teaching, he wouldn't bother to ask, and just assume the answer is
'Hell, no.'"
Gregory himself could not be reached for comment, but his assistant volunteered the fact that his new vehicle gets approximately 70 MPG on the highway.