by Diana Senechal
Freelance Writer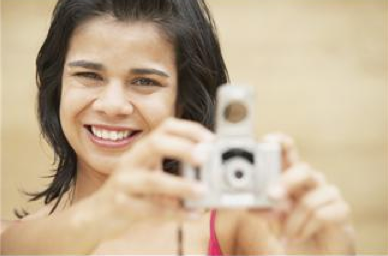 Do you say "sorry" when someone pushes past you in line? Do you make a point of wishing your friends a happy birthday? Do you rush for napkins when someone spills coffee? Do you tweet good wishes to the world at night? Do you congratulate a friend who wins a prize? Do you smile when your picture is taken? If your answer to three or more of these questions is "yes," you are likely a nice person, according to the psychology professor Jack Priyatny, head of the Nice Personality Research Group (NPRG) at Aardig College in Vermont.
"Nice people have been ambling around for centuries, shaking hands and sharing candy, without knowing their identity," said Priyatny at a press conference. "Brain research shows that niceness activates the hypothalamus. That's powerful." [Editor's note: We weren't sure what the hypothalamus was, but we looked it up on Wikipedia. It sounds exciting.]
"Nice people are often misunderstood," writes Rachel Gentile, author of the best seller Smile: It's Your Nature, which draws heavily on Priyatny's work. "Research shows that people are nice because that's the way they are. When I heard about the research, I said, hey! I'm a nice person too! And so are you—if you're nice, that is."
Numerous students at Aardig College reported that they had taken part in experiments.
"I keep getting invited back for more, maybe because I'm so nice," said Shelley Sweet as she offered us cookies. "It's nice to know I'm nice. It opens up worlds for me. Before, I didn't know what set me apart from others. Now I know nothing sets me apart, because we nice people are together in this!"
"These findings are monumental," declared Richard Bonami, interim president of Aardig College. "The word 'nice' used to be an informal adjective, subject to everyone's whim. Now it's a scientific classification, based on hard data. That's the sort of identity all of our students should be seeking—a data-driven, rock-solid, research-rounded identity." He paused to check his Blackberry. "But it has a soft side, too, since niceness is soft. You get the best of both worlds."
As the research project expands, nice people nationwide will be invited to take part.
"We expect lots of cooperation," said Priyatny, "because nice people are nice, as it turns out."
A future project on assholes may be more challenging, he predicted. "All the same," he added, "if things get difficult, that will just confirm our thesis. Some people are assholes. It's the way they are. Plain as day. No confusing them with the nice people, no way José. I meant 'José' in a nice way, not a prejudiced way, by the way."
When pulled aside for comment, José responded that he would not have taken offense. "People here at Aardig are so nice," he said, "that I trust what they say. And it's great that some research is coming out of it. Maybe we'll have the funds to build a social center in a few years. But even if that doesn't happen, I will still like it here."
José saw a group of peers and ran off to join them, turning back several times to wave goodbye.
Priyatny gazed after him and sighed. "That was so nice," he said. "We're onto something. We're really onto something."
**
Visit Diana Senechal at DianaSenechal.com