by Brody K. Truce
Senior Staff Writer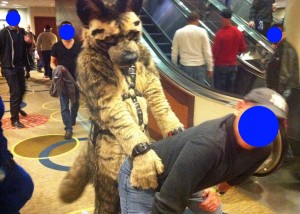 College mascots, generally universally adored, came under fire this week after lewd photos of Timmy the Tioga Timberwolf surfaced. Typically found energizing fans at Tioga Christian College sporting events, Timmy's recent weekend excursion found him at the East Coast Fetish Convention. In a series of photos released Monday morning Timmy can be seen not in his signature gold and blue jersey, but instead in a leather harness. Most of the pictures show Timmy in what has been described as, "various compromising positions," with plushies—a slang term for people who are sexually attracted to stuffed animals.
"I was so excited to see Timmy at the convention!" gushed one convention patron who wished to remain anonymous. "In the world of plushies college mascots are basically celebrities." Convention goers crowded around Timmy hoping for an autograph or a photo opportunity.
But reaction from the mascot community and Tioga Christian College leaders has been far less than enthusiastic.
"Mascotting is a very serious responsibility," explained Ethan Wainrick. For three years Wainrick has donned the Hillburg Hens college mascot uniform—a large green chicken with a yellow turtleneck sweater. "This is like a real job. You don't go to a fetish convention and see a bunch of people in police uniforms or fire fighter outfits. Whoever plays Timmy should be stripped of his costume!"
Leaders at Tioga Christian College were equally dismayed by Timmy's appearance at the convention.
"This tarnishes our college's good name," said vice president of public relations Stephen Marlow. "We stand for strong values of Christian kindness and part of Timmy's job is to promote those values. Fetishes are a perversion of the devil."
The student who has played Timmy for the past two years has reportedly been shunned by the college community.
The college has engaged a branding consultant to discuss new, less sexy mascots.
"We're down to two options: Chastity the Cheetah or Prudence the Piglet."