by Con Chapman
Freelance Writer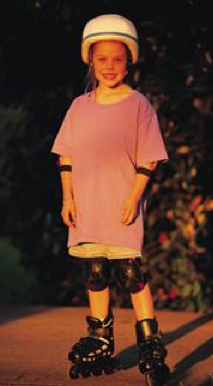 CROTON-ON-HUDSON, New York. Caitlin Morgan has dreamed about attending Wellesley College, her mother's alma mater, almost as long as she can remember.
"Mom took me there when I was a little girl and I just fell in love with the place," says the high school junior as she enters the storefront office of an SAT test-preparation company in this tony Westchester County suburb.
But Caitlin's dream may fall victim to the iron laws of demographics. Female students from the high school class of 2012 will account for 57% of all college applications this year and the odds of getting into the more prestigious liberal arts colleges have accordingly never been longer.
So what is Caitlin doing about it? In addition to cramming her schedule full of community service projects such as teaching synchronized swimming to heroin addicts, she is trying a new sport – one she hopes will give her an edge when admissions committees review her file–roller derby.
"So many girls from the better prep schools have field hockey and lacrosse on their résumés," says Caitlin's mother Linda, an investment banker with a charm bracelet that could hold a small Texas chain gang. "We wanted something that would make our daughter stand out."
Long derided as the distaff equivalent of professional wrestling, roller derby is increasingly adopted by young women who need a "plus factor" to get into their school of choice. Yan-Lan Lian is the overachieving daughter of immigrant parents who has already performed a solo concert at Carnegie Hall, discovered a cure for psoriasis and won the national Spelling Bee, but she feels there is a gap in her résumé that only roller derby can fill.
"It is a fun game, if you don't mind the stitches," she says of the scars she bears on her forehead and cheeks. "I feel a pretty face is less important to the dean of admissions at Stanford than a diverse background with a variety of interests."
Caitlin and Yan-Lan compete weekly in the tough College Prep Roller Derby League here where the minimum SAT score is 750 verbal, 700 math.
"When the jam is on I want to know that my teammates could perform a quadratic equation on me if go flying over the rail," says Morgan, who plays for the Westchester County Witches.
As a "jammer" Morgan scores a point for the Witches each time she passes a member of the opposing team. Lian is a "blocker" for the Croton Cramp, and tries to prevent jammers from passing by throwing elbows and hip-checking her opponents onto the track or into the rail.
Admissions officers at top schools say that the competition for a limited number of slots at their schools can be vicious, and that parents are justified in seeking that extra edge.
"Frankly, I don't think an Emily Dickinson would get into Mt. Holyoke these days unless she had something besides 'How dreary to be Somebody/How public like a Frog!' on her transcript," says Elinor Walton, dean of admissions at the top-ranked women's college in western Massachusetts. "I think we'd wait-list her and tell her to spend a year arm-wrestling or candlepin bowling to round herself out a little."
For Caitlin Morgan, roller derby adds up to good clean fun and a standout résumé, says her mother, even if it means putting thousands of dollars of orthodonture at risk. "We can always buy Caitlin new teeth," she says, "but getting into the right college is something you only get one shot at."
—
Con Chapman is the author of two novels and The Year of the Gerbil, a history of the 1978 Red Sox. His humor has appeared in The Atlantic, The Boston Globe and on Salon.com, among other places. He blogs at conchapman.wordpress.com.