by Con Chapman
Lifestyle Reporter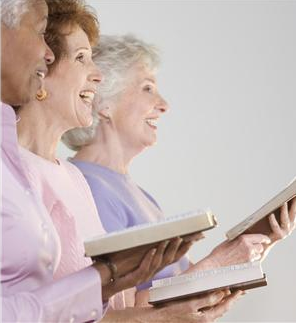 BRADFORD, Indiana. The lifeblood of this small town in central Indiana is Bradford College, a four-year liberal arts institution on the Kahoki River that is sometimes confused with its in-state neighbor, Bradley University. Both town and gown mourned today as news circulated that Emmett Bivens, a graduate of the class of 1935, passed away in his sleep. The 98-year-old former osteopath, the oldest graduate of the school, was hailed as the last living repository of all three verses and chorus of the school's alma mater, "Far Above Kahoki's Waters," according to the college's public relations department.
"After the first few lines, everybody basically just wings it," said Dean James St. Andrews. "Emmett could be heard loud and clear above the mumbling. He was like a lighthouse that led lost ships to shore, or to crash on the rocks if they couldn't sing."
Like many institutions of higher learning Bradford has seen traditions such as class rings, yearbooks and the singing of its school song fall into disuse over time.
"The coeds used to insist that their 'beaus' give them a ring before they kissed," says retired Dean of Women Eleanor Mallory. "As I understand it now some of them have several children before they get a ring."
Bivens was a phrenology major back when it was widely believed that human nature could be divined by feeling the bumps on a person's head. "That's a pseudo-science that has been debunked through rigorous research," says physics professor Gottfriend Helmholz. "It has been replaced by Sports Management and Women's Studies."
Bradford's alma mater was reduced to writing during the 1940's, but the cocktail napkin on which it was memorialized was lost after members of the Sigma Nu fraternity skipped out on the check at The Sugar Shack, a defunct watering hole favored by students at the time. A transcription from a tape recorded at the 1974 homecoming game against Evansville State College is kept in the safe at the school bursar's office and records the words of the first verse and refrain of the song as follows:
Far above Kahoki's waters,
Don the orange and blue–
Hail to thee, dear Bradford Otters
Something something view (or new).
Dear Old Bradford, queer Old Bradford
We applied to other schoo-oo-ools.
Still, with drink we're totally mad for
Bradford you're so cool.
—
Con Chapman is the author of two novels and The Year of the Gerbil, a history of the 1978 Red Sox. His humor has appeared in The Atlantic, The Boston Globe and on Salon.com, among other places. He blogs at conchapman.wordpress.com.