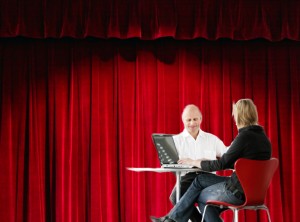 Auditions will be held next Monday and Tuesday at Mount Champaign College to cast the roles of Employers #1 and #2 for a national touring company of higher education placement fairs, which will premier at The Placement Exchange in Phoenix, AZ.
According to the production's director, Miles Winkle, he seeks to cast two exceptional performers from within the Mount Champaign community.
"We're looking for a diverse pool of actors who can follow a script but also stay in character when not on stage," said Winkle. "Employers #1 and #2 must convincingly portray MCC staff members who like their jobs, feel supported by their supervisors and most importantly like each other."
"It's the role of a lifetime," said aspiring cast member Tonya Olyphant, who works as the assistant director of enrollment between auditions. "It would be the most challenging character I've ever played." Many fans may remember Olyphant from last season in her award-winning role as The Admissions Counselor Who Wasn't Bored by Your Interview.
"It's going to be hard to replace last year's actors," said career counselor James Migluski. "I'm embarrassed to admit it but when I was a job candidate last year I didn't even know the interviewers were acting. I wish I could congratulate them for such phenomenal performances, but I've heard they both left the institution."