by Ted Bonski
Freelance Writer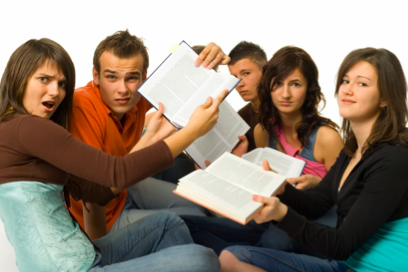 At Strife University, the college housing crunch has engendered a mixed bag of feelings. The increased numbers in university housing, while abhorred by many at Strife, are enthusiastically embraced and welcomed by others. Those within the Strife Office of Residential Life and Housing Operations (ORLHO) certainly provide us with a different view of what many would term an administrative nightmare.
Admissions departments across the country have experienced inflated numbers of enrolled and matriculated students. Faculty and administrators on the Strife campus, although operating with drastically opposing vantage points, agree on one thing: the increased matriculation of new students is sure to bust the institution at its seams. ORLHO, however, looks at the university's newly adopted challenge with more of a "glass half full" perspective. The department has recently instituted forced double quadruple rooms, increasing the occupancy of 4-person living spaces to 8 students.
"We don't use the typical terminology of 'forced double quads' here at Strife," said Tristan Hershoof, director of Housing and Residence Education & Residential Multicultural and Inclusive Initiatives and Events. "These spaces are aptly named OLCs or 'Octo-Living Communities.' The OLCs provide a unique community setting for students that they wouldn't experience at any other institution in the nation."
Director of Student Retention, Campus Inclusion and Community Climate Paulette Fredette agrees. "Increased numbers inside the classroom means we're educating more students. Increased numbers inside the residence halls means more opportunity for inclusion and growth. Many institutions have attempted to build community by developing state of the art living. We've discovered that placing students into OLCs exponentially speeds up the community building process within the first 6 weeks."
Greg Atchison, associate director of Residential Training Opportunities and Campus Community Collaborations, expounded on the financial windfall OLCs generate. "With a 385 percent increase in student contacts with Student Counseling Services (SCS) within the past year, SCS has been able to secure additional counselors who will specialize in petty student behavior and roommate conflicts. With more professional staff, I've been able to partner with Director Hershoof in ORLHO to reduce the number of days that her student staff members are on campus for training by 50 percent. We've turned what others would call a problem, into a capital gain."
Students themselves have come to love the experience.
"ORLHO has put out a great newsletter for all of us in the bi-quad family," said Charlie Cassidy. "The first issue of 'Inside the Octagon' showed us that there are lots of famous people associated with the number eight: Jon and Kate (plus 8), Doctor Otto Gunther Octavious (Dr. Octopus from Spiderman), and the famous Chukwu octuplets from Texas: Ebuku, Echerem, Jioke, Chima, Gorum, Chidi, Ikem, and Odera. We're currently pitching the idea of our own reality show to Bravo."
"Yeah," added Brock, one of Charlie's seven new bunkmates, "It's also cool to have another bathroom in our space. The Sani-Can in the kitchen allows for someone to pee even when one of us is in the shower!"