by Irma Pelt
Senior Staff Writer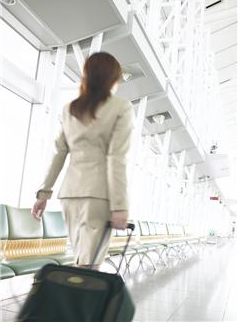 Hilliter Airlines announced this week it will waive baggage fees on invisible knapsacks for candidates traveling to placement exchanges during this search season. Sponsored by both ACPA's Career Central at Convention (C3) and The Placement Exchange (TPE), the initiative will allow candidates to travel with their most obvious baggage.
"This was something we knew we had to do, especially for those traveling to Phoenix," said Katie Merthon, a TPE volunteer. "It's a long journey for many of our candidates, and we want them to have everything they'll need as they explore their futures."
Merthon said invisible knapsacks would be subject to usual security measures, including scanning and possible searching.
"We're not really worried about it. I expect anything packed in someone's invisible knapsack is meant to protect them and keep them safe," said Merthon.
There is no weight limit applied to the knapsacks, as Merthon acknowledged the amount each candidate needs to carry depends on where their travel originated.
"It's really a privilege to be able to take this knapsack without having to give it a second thought," said Drew Stone, a graduate student at University of Orlando traveling to C3.