by Velma Applebee
Staff Writer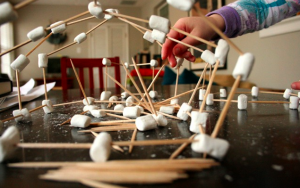 It has been a busy week for Housing and Residential Life staff at Willard University in Ohio, where over 150 hopeful undergraduate candidates have applied to be Resident Assistants. Like many other institutions this time of year, Willard is trying to find the most outstanding campus leaders for next year's "other duties as assigned."
"We expertly crafted an interview process that would show us who would fit best with our department. We don't just evaluate their responses to interview questions, we look at candidates holistically in group interviews," said Assistant Director of Residence Life Staffing Leonard Christiansen, who completed both his bachelors degree and masters at WU. "No one else has a student staff selection process that so comprehensive and creative."
Interviews took place over the course of three days to send candidates through rigorous activities like building marshmallow towers, detangling human knots and answering a few traditional interview questions about the job. Full-time staff at Willard are excited about their unique process and look forward to seeing all the outstanding leadership potential from these future RAs.
"We're ecstatic about the caliber of candidates that we've seen this week," continues Christiansen. "I've never seen anyone build the marshmallow tower exactly the way I would, but that's okay. I'll teach them how to be creative like me at our exceptionally long training. Some candidates want to get a little too creative and introduce ideas that would allow the towers to be taller than our actual interview room. As if! This activity makes it easy to spot the candidates who work against the departmental mission of leadership."
Many of the traditional interview questions focused on planning events and educational programs for students. The staff was impressed to hear some of the exciting ideas candidates were able to recite verbatim from their own RAs.
"These are true leaders who will follow instructions exactly as told and manage their time properly by not muddling down meetings with questions or wacky ideas," said Christiansen. "Later this year, we've offered to work on a recruitment plan for our graduate admissions program in college administration."