by Con Chapman
Lifestyle Reporter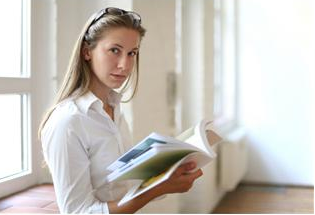 RINDGE, New Hampshire. Soledad Wilson is a third-year transfer student from NYU at Granite Head College in this isolated town in the White Mountains. She arrived on campus last year with an unmistakable air of authority about her. "I started my own literary magazine my freshman year," she says of plangent voices, a cutting-edge journal whose masthead shrank to lower-case characters due to funding cuts after she devoted the winter issue to poems about head colds. "I came here for the pure mountain air and the open spaces."
The move from Manhattan to New Hampshire, where snowmobiles outnumber people, enabled Wilson to rent an 850-square foot apartment, large enough to hold the avalanche of submissions that college literary magazines receive from wannabe writers. "In New York I had a decent studio but I had to sleep in the sink because of the thousands of manuscripts that piled up," Wilson said of the thirty-six hour submission period, from noon on September 1st to midnight the following day each year. "We got the idea for the teensy-tiny window from professors' office hours," Wilson says, and one gets the sense from her matter-of-fact tone that she isn't kidding.
But storage isn't the only problem the ambitious editor faces in her quest to produce a little magazine containing bold, cutting-edge literature. "It's not the finished goods," says adjunct professor Maury Moschol, a retired shoe manufacturer who is helping Wilson get her arms around the logistics of literature, "It's the work in process."
Indeed, even though the calendar says 2012, plangent voices has yet to publish its spring 2010 edition which was to have carried the winner of an annual writing competition in categories including poetry, short stories and coming-of-age novels by emerging writers under 80.
"I get bogged down sometimes," Wilson admits. "I want to take time to fully appreciate every work submitted–one of them might be from an English professor who could support me as his kept woman."
The National Association of College Literary Magazines says tardy replies to unsolicited manuscripts are the biggest source of consumer complaints and the group has adopted a code of ethics to improve the public image of quarterlies. "We have a draft rule that would prohibit lit rags from soliciting donations from writers until they've accepted or rejected their work," says Eleanor Henriker, a former editor of Orange Unicorn, an avant garde poetry journal published by Seekonk State College. "I don't expect it to pass."