by Anselmo Watkins
Freelance Writer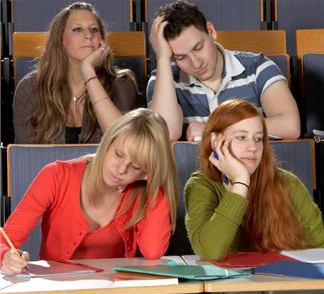 University of El Dorado at Pasadena President Allan Swindell said he was disappointed by the performance of student protesters who invaded the Andriessen Administration Building in protest of proposed student fee increases made necessary by California's financial crisis.
A crowd of 50 students and hangers-on entered Andriessen at 3 p.m. Thursday and took the stairs to the president's office on third floor. Swindell greeted the protesters and said he was eager to hear their concerns. After a brief conversation the protesters conducted a sit-in to contest the proposed 30 percent tuition increases at UEDP for the 2012-13 school year.
Much to Swindell's dismay the protest lost energy and by 5 p.m. more than half the protesters had left the building. The rest trickled away over the next 60 minutes. While campus police were on hand no arrests or conflicts were reported.
"I just expected more from them, I really did," said Swindell, adding that he had already prepared to buy pizza and drinks for the protesters. "But they were really poorly organized and just seemed lost, staring at each other. One would start a chant then it would die off."
Swindell said that he was active in student government and protests during his undergraduate and post-graduate years in the late 1970s and early 1980s, calling them the "glory days" of student protesting.
"I came from a generation of protestors, from a time when you really got into it," he said. "You would sit in a building, sing songs, take a couple hits from a bong and wait to get arrested by the man. It was an amazing experience."
He said that today's protestors seemed distracted, but wasn't sure where to put the blame.
"Maybe it's too much social networking. Too much Facebook and Twitter. Too many kids staring at their phones," he said. "It makes me worried about the future. These kids – these protesters – are our future campus administrators. If they can't manage a decent protest now, how are they going to to deal with Academic Senate?"