by Veronica Zolter
Staff Writer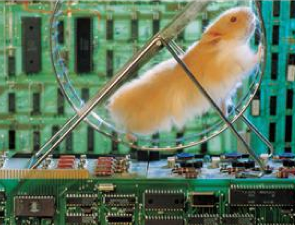 Following a lengthy search for a new president, marked by the firing of two very expensive search firms, the Board of Trustees at City State University has announced an unparalleled decision in the appointment of Dr. Amy Wits, an adjunct instructor of communications, drawn from CSU's own ranks.
This is the first time in known history that a perma-adjunct has made the leap over layers of traditional administrative hierarchy to lead an institution of this size. Wits' benefits, salary and job security will remain the same despite acquiring access to a large office overseeing campus, at least for this semester. She intends to open her office, with true collegial spirit, to anyone without one – including the rest of the college's faculty and staff.
"I'm in the driver's seat, all right," Wits said in a phone interview. "But I've actually been in that seat a long time going back and forth to CSU and my other four employers. That really has given me the big picture on higher education today."
Board chairman D. William Sneyd agreed that the president has a regional awareness that will help make the job work. "Of all the candidates for the position, she was the only one who had heard of us before. She had given the most thought to our strategic plan. From parking to course offerings – she impressed us by not only knowing that we had them but that we had problems with them, too. She even knew some of our students' names, which came as a huge shock, given what we had heard of the shoddy teaching of adjuncts."
A fellow adjunct in the department of communications said, "I was with her in the coffee room when she came up with her improvements to CSU's strategic plan, with a top-down and side-to-side adjunctification model, guaranteed to slash our operating costs by 21,600 percent even though we're now offering classes 24/7. It's brilliant."
"I'm very happy to be here, too," said President Wits' new secretary Fuzzy, a hamster who spoke through an interpreter. The new secretary will also assume the important role of campus mascot, retiring the smiling wolf in a t-shirt and jogging shorts that was found to be irrelevant and accompanied by costly licensing fees.
A picture of Fuzzy, has already been sent to each student, staff and faculty phone with the new campus motto: "The squeaky wheel is what keeps us from going nuts in here."