by Con Chapman
Lifestyle Reporter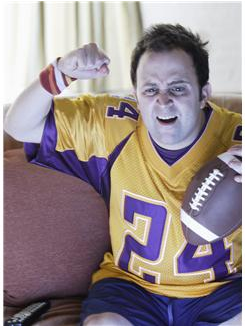 KALISPELL, Montana. Andy Brandnewjetski's face is a picture of anticipation as he moves towards the cash register at the student union at Western Montana University, his tray loaded down with two Sloppy Joes, three cartons of French fries and a dish of lime jello with carrot shavings in it that looks somehow out of place. "The team nutritionist says I need more fiber," he says with obvious distaste.
Brandnewjetski, a starting linebacker for the Mountain Goats football team, hands the cashier two bills when she tells him his total is $10.56, a ten and a one. "Do you have six cents?" she asks, hoping to simplify the process of making change.
"But—I give you money," he replies, using words of one syllable to conserve his mental energy for a pop quiz he's been told will be given in "History of the On-Side Kick," an independent study he needs to pass in order to retain his NCAA eligibility.
The woman looks at him with disbelief, and students in line begin to snicker.
"Think of it like a football conference," says Evan Smirsky, editor of the school's humor magazine The Underachiever. "There's the Big 10, which actually has twelve teams, so the extra six cents is like Purdue and Minnesota."
Brandnewjetski doesn't get the joke, but he knows he's being made fun of, and he purses his lips as he tries to think of a snappy comeback. "Just—shut up, okay?" he finally manages to blurt out.
Brandnewjetski's frustration is the product of a new Code of Conduct at the school that prohibits students from throwing each other through plate glass windows, a rule that football coach Joe Ray Diggs thinks is patently unfair. "There's nobody who can do that who isn't on the football team," he says, before thinking a minute and correcting himself. "Well, maybe elena gotchko," he adds, referring to the plus-size, lower-case chairwoman of the school's M.F.A. in Poetry program.
So Diggs is encouraging his players to report verbal abuse by fellow students to the school's Office of Hate Speech, which has historically handled complaints against athletes, not by them. "Jock-Americans are a legitimate minority group," Diggs says. "In high school only half of the students who come out for football make the team some years, and only fifty percent the rest of the time."
For all the courage it takes to come forward with allegations of hate speech, Brandnewjetski says he is not out to break stereotypes. "My roommate broke his stereotype last semester," he says as he shakes his head sadly. "He had to go to Radio Shack to get new speakers."
—Con Chapman is the author of two novels and The Year of the Gerbil, a history of the 1978 Red Sox. His humor has appeared in The Atlantic, The Boston Globe and on Salon.com, among other places. He blogs at conchapman.wordpress.com.