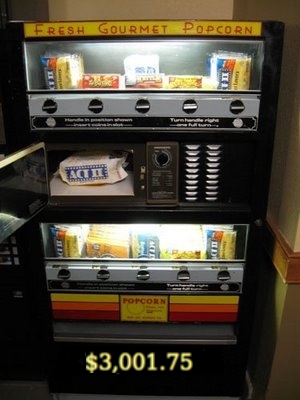 After years of derisive battles, finger pointing and insults, professionals from the National Vending Machine Operators Association and the US Fire Safety on Campus Counsel have emerged from a week-long retreat at Camp David with a spirit of peace and a plea for universities.
Calling themselves the "Vendo-Flame Retardants United," the merged organization has issued a Dear Colleague memo, which will be published in every major higher education journal. The memo challenges campuses to take Swift action.
A Modest Pop-osal
For decades, vending and safety professionals have taken the blame for late-night residence hall evacuations triggered by burned microwaved popcorn. Campuses are charged thousands of dollars by local fire stations each trucks and officials are deployed for false alarms and as a result, colleges threaten vending professionals with a halt to offering the most popular item in their machines.
We have tried to take proactive measures with no support. We asked campuses to provide proper education to student microwavers to no avail. We asked conduct officers to create and enforce strict policies about microwave-related smoke alarm violations. It didn't work. We even begged campuses to work with microwave manufacturers to develop ovens that cannot overcook corn, but our pleas fell on deaf ears. Now we have taken matters into our own creative hands.
Together and without reservation, we propose a simple solution that will affirmatively address all problems and constituents.
Starting Monday, vending professionals will raise the cost of each package of unpopped corn to $3,001.75. Each purchase will include the cost of one bag of our high quality, delicious popcorn and a $3,000 deposit that will cover the inevitable fines associated with false fire alarms. For the rare students who properly cook their corn, the deposits will be used to benefit our communities.
$1,050 will be donated to the Widows of Vending Service Professionals Foundation

$1,205 will boost the Fire Fighters International professional development capital campaign

Remaining money will pay for additional vending machines and microwaves in all residential facilities and bonuses for the heroic fire fighters who have been called out on false alarms.
We're thrilled to present a solution to the false fire alarm problem that will lead students to take pride in contributing to the local service community.
We ask all universities, grocery retailers and snack distributors to join us in our crusade for safety and education.