by Con Chapman
Lifestyles Editor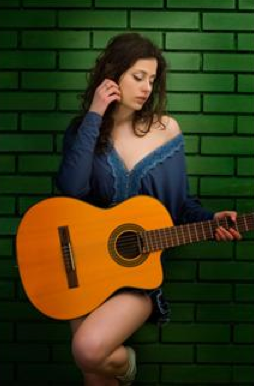 BOSTON. The "Eureka" moment of Sharon Elliot's life came a few years ago at a conference of the National Association for Campus Activities, a showcase for entertainers seeking college bookings.
"I was a month behind in my rent," she recalls, "but when I showed up to audition there were forty other female folk singers just like me; long stringy hair, peasant dress–the full Judy Collins."
Faced with daunting odds, she was inspired by a woman standing in line behind her practicing "The Cruel War," a song from the Civil War about a young woman who cuts her hair and joins her lover in battle. "I realized I needed something to make me stand out from the crowd," whose anti-war conformity hung in the air like tear gas at a peace demonstration.
So she launched into "The Cruel War" with lyrics she improvised on the spot to emphasize the song's implicit martial theme: "Iraq, Iran–one little letter separates them. Let's drop a big bomb and like totally decimate them." Some of her competitors gave her the cold shoulder when she finished, but she was unrepentant. "War really is about crushing the other side like a bug, so you can return home and make love in a field of daffodills," she says.
The reaction from college booking agents was surprisingly favorable. "We're looking for balance in our programs," said Maitland Jamieson of Blakemore College. "For every wimpy post-adolescent androgynous wussy boy like John Mayer we book, we like to have someone with a more positive view of civilian casualties."
Elliot walked out with a solid list of gigs and parlayed her contrarian approach into a successful career playing out-of-the-way schools that have a hard time paying for big-name acts with left-wing views.
At Bethany Baptist College in Otterville, Missouri, a crowd jammed into the school's gymnasium last Saturday to hear Sharon open her act with a cover of The Gap Band's 80's hit "You Dropped a Bomb on Me."
"Sharon's message is you can't love everybody, which is what my momma told me about dating," says sophomore Krystal Muller as she snuggles with her boyfriend. "Some people need to be wiped off the face of the earth, or else why would God make Tomahawk missiles and stuff?"
Elliot hopes that she will eventually make enough from commercial endorsements to cut back on a concert schedule that has her on the road two hundred nights a year. "I'm talking to Round-Up Weed Killer about doing a voice over," she says. "'Where Have All the Dandelions Gone?'"
—
Con Chapman is the author of two novels and The Year of the Gerbil, a history of the 1978 Red Sox. His humor has appeared in The Atlantic, The Boston Globe and on Salon.com, among other places. He blogs at conchapman.wordpress.com.