"Seriously, I've had to work for everything I've had," says Ivy League teen.
by Alice Hawthorne
Staff Writer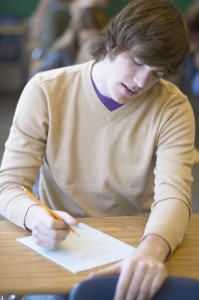 In a stunning rebuttal to years of work by expert sociologists, Mark Edward Howard IV, freshman student at an unnamed Ivy League school, has proven white privilege is a myth.
"If you even saw how many hours I put in on my essay to be accepted here—how many hundreds of dollars I spent on a personal writing coach and how many tennis and rowing lessons I missed—you would know that privilege is not a concept with which I identify," said Howard, speaking from his private room on campus.
Howard went on to cite the struggles he faced in prep school as the only student with immigrants as great-great-great-great grandparents.
"It was hard, you know, being the only one who could not completely trace his genealogy in an entirely American line. While I am not ashamed of my French ancestors, it was something I didn't advertise at school for fear of being shunned by others who have American ancestors."
When asked if "American" ancestors means American Indians, Howard rolled his eyes and said, "No, no, American Americans. That's what I mean. Like Plymouth Rock Americans."
Howard's epiphany and subsequent announcement came after a campus speaker on white privilege discussed the issues of how privilege comes into play with employment, education, socioeconomic standing and, of course, civil liberties.
"Right, socioeconomic standing. Someone just gave my father money because he's white. The only way that could be proven as true is that his money came from a trust fund from his father. So, yes, he got it because he was white—because he was my grandfather's son, and my grandfather was also white. Please!" Howard said, chuckling.
Sociology Professor Leo Sandus, who also attended the talk, said he is not surprised by Howard's attitude. "It is hard for those with privilege to admit to it—hard for them to feel responsible for the imbalance that exists in our society. Accepting that you benefit from privilege is really one of the largest steps towards embracing social justice and change."
When asked for a reaction, Howard stated: "Responsible for the imbalance?! Are you kidding me? My family has hired Black and Mexican workers at all three of our estates since before I can remember. And it is a privilege to work there, believe me."