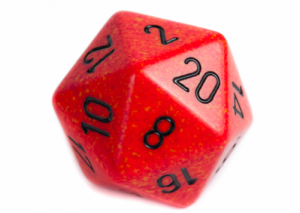 The student activities staff at Herbertville University brought in outside consultants last week to assist with an accusation of cultural bias.
Members of the HU Dungeons & Dragons Society are alleged to have changed the locks on the office in the campus community center that they were assigned to share with the Live Action Role Play (LARP) Club.
Dungeon Master Kyle Guernsey spoke for the Dungeons & Dragons group.
"We don't deny any of the allegations and in fact we want the administration investigated for insensitivity," said Guernsey. "We were told we would share office space with the LARPers without any regard for how the assignment would affect us. Now our reputation has been crushed beyond repair."
"LARPers are weird," said D&D Elf Connie Torrent about the students who play-act role playing games in public, often using costumes and props. "Other students see them come into our office and they think we're like that. As if!"
Guernsey has asked OSHA to investigate the possibility that the LARP/D&D pairing may be a workplace safety violation.
"Some of our members have stress-induced asthma and sensitivity to allergens," said Guernsey. "LARPers run around outside in the dust and elements then come to the office without any regard for others' safety."
"I think Kyle's just worried about this new generation of role-playing cock blocking," said D&D Wizard Marco Viejo, who supports universal acceptance of all gaming societies. "We have a hard enough time getting laid on our own. Now there's a role playing group that goes outside and gets some exercise and sunlight. Once Kyle hits puberty I think he'll be more forgiving."