by Veronica Zolter
Staff Writer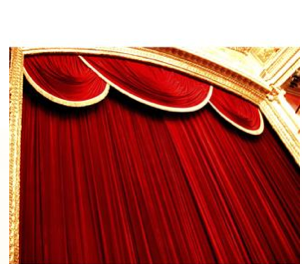 The campus presidential lecture, an annual recipe for boredom as we many know it, is now dead.
But alive and well is a traveling theater group's new presidential lecture, Pretend History is Fun (PHIF), appearing this week at Ficus College.
"We are pleased to offer this innovative concept to our campus community," Ficus President John Moseley stated in an interview. "And instead of my speechwriter/wife having to think of smart things for me to say, the troupe comes with all its own material."
Why prepare for a mind-numbing speech and risk an allergic reaction thumbing through moldy campus archives – or even risk cataracts pouring over digitized materials – when PHIF actors come equipped with costumes, props and original material about our nation's heritage. They portray the great real presidents such as George Washington and Abraham Lincoln, as well as those lesser-known but with presidential potential such as Bert and Ernie, Garfield, and Lamb Chop.
When the PHIF troupe runs out of make-up or some actors don't show for campus performances – generally at dreary little campuses that don't even pop up on the GPS – they resort to puppets made of reused lunch bags and old socks. The group clearly has an ecological message to share as well.
"What would it have been like to have a puppet in the White House?" pondered political science major Heather Hack. "I think it would have been a lot more fun for my generation."
Student Jennifer Rice agrees. She likes the idea of the new presidential lecture as doing what college should do best: to help students have fun. "And I know I might learn something, too," she said. "My history teacher says it's an excused absence if we attend."
Her history teacher Frank Kerchner countered, "No, she wasn't listening. I said it was a poor excuse for an absence."
"Whatever," said Rice. "I'm going anyway."