by Con Chapman
Lifestyles Editor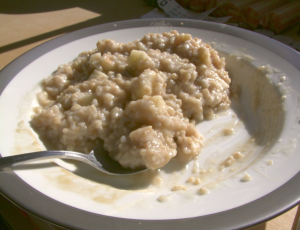 SEEKONK, Mass. It is an age-old complaint, going back to the first modern university in Bologna, Italy, where administrators rebuffed a demand for higher pay in 1090 A.D. by telling staff they should be thankful they worked at the most prestigious—in fact the only—institution of its kind in the world.
"Bologna!" said Anfelisia Piuoli, a scrivener who worked in the office of the Dean of Astrology. "You can't eat prestige!"
But that continuing source of tension between college administrators and staff may go the way of freshman beanies if experiments performed in the culinary arts lab at UMass-Seekonk can be replicated elsewhere. "We have succeeded in making prestige edible," says Dr. Scott Nowak as he pulls a white lab rat away from a feeder bottle. "And I'm pleased to report that it is just as palatable as the food we serve in the dorms."
The recipe for the concoction, which is available for commercial exploitation through the school's technology licensing office, calls for two cups of prestige, one cup of condescension, water, baking soda, turmeric and salt and pepper to taste. The final product has the color and consistency of mashed potatoes, making it easy to experiment on a blind basis with staff who buy their lunch in the school's common cafeteria.
Linda McIlvaine, a long-time secretary in the admissions office who has been grumbling about the salaries paid to the school's basketball coach and some of his players, sits down with Dianne Wurzel, a receptionist in the law school's placement office who frequently tosses résumés away out of bitterness at the high starting salaries young attorneys are paid.
"So I says to him I says," Wurzel is saying to McIlvaine as she tucks into meat loaf and what she believes to be mashed potatoes, "you should be thankful I even put you on the list for that interview, you little twerp."
McIlvaine nods in agreement as she unknowingly eats a bite of prestige, but before long both women are showing symptoms of a "starch high" that has them thanking their lucky stars they work at the school.
"I dunno," Wurzel says as she leans back in her folding chair, full and apparently satisfied with her job for the first time in years. "This ain't such a bad place to work."
"I know what you mean," McIlvaine replies. "When I ask myself what are we here for, the answer I always come up with is to produce young men who will go on to make millions in the NBA."