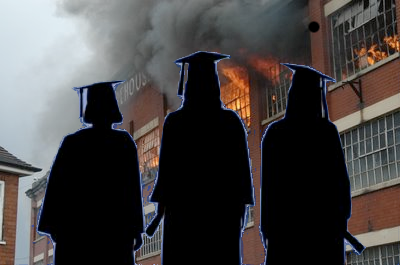 Families at Kennebunkport State University's commencement ceremony left in shame, realizing they had failed to show enough love for their respective graduates.
"After watching the Forrester family's display of support for their son Lester, we realized the unworthiness of the flowers and gifts we brought for our graduating daughter Jessica," said Samantha Anderson.
"We thought we'd planned appropriately for our noise makers and screaming for our son," said Roger Sugger. "We even brought beach balls to whop unsuspecting grandparents in the back of the head during the invocation, but the Forresters took family spirit to a new level of excellence."
According to witnesses, four generations of Forresters prepared carefully for the moment their graduate Lester's name was called.
"Instead of the normal air horn, the Forresters rented an authentic Civil War era cannon and a fireworks launcher," said Director of Alumni Affairs Tracy Wilkins. "How they sneaked them into the auditorium is still a mystery, but it shows that Lester comes from a family that values analytical problem-solving, just as our Kennebunkport mission promotes."
"When the simultaneous detonations set off the sprinklers so none of the graduates with names G through Z could collect their diplomas, we knew KSU had changed expectations of family spirit forever," said the university's PR director Devin Quashie. "Everyone staggered to the nearest exit knowing they'd just played a part in commencement history.
Prior to the ceremony the graduation planning committee had discussed the pros and cons of a code of family etiquette to promote a more dignified celebration.
"Thank goodness we tabled that buzz-kill discussion," said one committee member. "When parents arrive for orientation and see the construction equipment needed for the two-year auditorium reconstruction we offer visible evidence that nothing but the absolute best in obnoxious commencement behavior will pass at KSU."