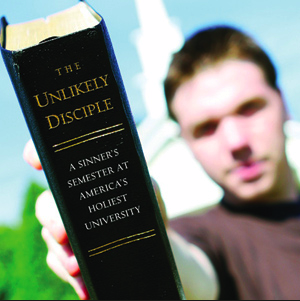 We've done your homework for you today so you can weigh your options at 9:00 eastern.
1. The CronkNews book club discussion of  The Unlikely Disciple: A Sinner's Semester at America's Holiest University
by Kevin Roose. Even if you haven't read the book, the discussion promises to be fantastic. Bonus for option 1: Mr. Roose himself has indicated that he hopes to make an appearance.
2. Watch "America's Next Top Model" on the CW network. Normally, we wouldn't try to compete with something this good, but it's a repeat. Spoiler alert: Someone cries.
3. The Elkhorn Creek kayak fishing program would be excellent enrichment, but you'd have to make it to Frankfort, Kentucky. We're conveniently located on your computer.
4. Celebrate National Ice Cream Soda Day. Tempting — but not mutually exclusive with the book club.
The choice is clear. Hop on Twitter at 9:00 tonight and follow the hashtag #CronkClub. Moderator @IrmaPelt will take care of the rest.