by Con Chapman
Lifestyles Editor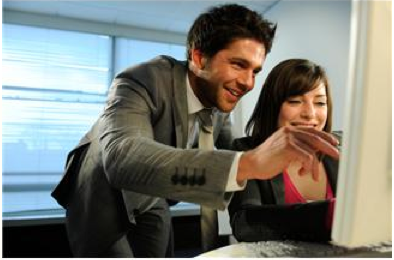 LANGLEY, Va. The Central Intelligence Agency is usually staffed by a skeleton crew on weekends, but this Saturday finds an auditorium packed with staff and an unlikely crew of outside consultants whom officials have summoned in the hope of catching the world's most notorious terrorists.
"We are not fighting a conventional war against a conventional enemy," says career CIA agent Philip van Dyck. "It's time for us to start thinking in an unconventional mode, as soon as we can get two sign-offs from senior agency officials."
The CIA's secret weapon? College alumni relations officials, who have earned a reputation among counter-terrorism experts as the most relentless and resourceful man-and-woman hunters on earth. "The Army and the Marines have failed," says Norman Geistz, a writer for Soldier of Fortune magazine. "The civilized world would be nuts not to try someone whose methods may be a little rougher, but who get results."
The first expert to speak is Mary Elizabeth Frobish, head of alumni relations at Goodison College in Norfolk, Virginia. "Frankly, I don't know what the problem is," she says as she plops a background file on Hassan Atwa-al-din on a circular table. "You've got a lot to work with!"
"Like what?" Paul D'Onofrio, a veteran with two decades of experience under his belt, asks sharply, feeling defensive that his superiors have criticized his work by bringing in outsiders.
"We know he went to Al-Thager Model School", Frobish says. "You can get to an alumni you've lost track of through his other affiliations."
"Like how?" D'Onofrio asks.
"Drop a nice note on cream or ecru stationery to the head of alumni relations there and say you're trying to track down a former alum who's gone on to become a great success in his chosen field of mass-casualty attacks against civilian targets! Then follow-up with a thank-you note when they spill the beans."
"That's unlikely," D'Onofrio says. "Everybody who knows him knows we're looking for him."
"Have you tried his alma mater's alumni magazine?" asks Sheryl Bodine, assistant alumni development officer at St. Columbkille's College.
"You mean King Abdulaziz University?" D'Onofrio asks.
"Whatever," Bodine replies impatiently. "Appoint someone Class Reporter, then have them put a notice in the magazine looking for news and updates from alums!"
"We're not sure he even graduated," van Dyck says.
"I thought you were supposed to be an intelligence agency," Bodine says, rolling her eyes.
"Let's try to keep things constructive, shall we?" D'Onofrio says, trying to head off a confrontation, although it's clear he's just as offended by the crack as his colleague.
"You folks are barking up the wrong pant leg," says Bob O'Connor, head of the alumni office at the University of Northern Florida. "There is one thing–and one thing only–that keeps alumni loyal."
"And what's that?" Bodine asks with an edge in her voice, annoyed at O'Connor's dismissive tone.
"Two words: Winning teams in the two major sports," O'Connor says, nearly spitting the words out as he speaks.
"That's seven words," Bodine snaps, but D'Onofrio seems interested, and pursues the topic. "So . . . if we gave you an email address for these guys, you think you could tease them out with–intercollegiate athletics?"
"Like taking candy from a baby. Hit me," he says as he logs into the email program on his laptop.
"Let's see," D'Onofrio says as he scrolls through his Microsoft Outlook "Contacts." "Here it is–atwaaldin19@terrorists.org."
O'Connor types the address, then cuts and pastes an alumni appeal he sent out after the North Florida Swamp Rats won their fourth national championship in four years by beating Oklahoma School of Mines in the 2012 Division 1-AAB+ National Championship game, changing names where appropriate.
"King Abdulaziz Triumphs–Again!" reads the headline, and O'Connor taps out a breathless story about a last-minute upset victory over arch-rival King Faisal University in the Central Arabia Conference basketball finals, 43-41. "If we are to dominate King Faisal like a bunch of infidels in shorts running around in a CYO basketball league, we need a new weight room and three million Riyals to keep our head coach from jumping to the Memphis Grizzlies."
He hits "Send," and the CIA "spooks" gather around to wait and watch.
"Bingo," O'Connor says, as a reply arrives in his in-box. He opens it and reads aloud: "Where do I send the money–Go King Abdulaziz!"