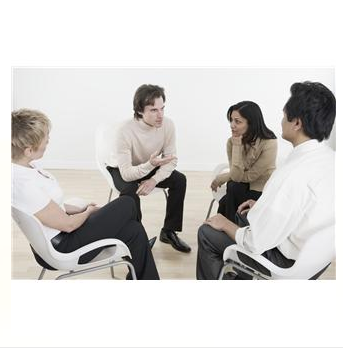 Managers at Marconi College reacted quickly to knowledge they acquired at a book club discussion hosted by Student Affairs Collaborative about the book Drive: The Surprising Truth about What Motivates Us by Daniel Pink.
"I felt really inspired after the chat," said Quinn Scharlau, Marconi's director of academic advising. "I called an emergency meeting as soon as the discussion was over to put our knowledge into action."
According to Sharlau, her staff will adapt all of their practices to the three core requirements for motivation as laid about by Pink: autonomy, mastery and purpose.
"Each of my staff members is now required to lay out a detailed plan for how they will be autonomous this year. I typed up an intricate template so their plans will be consistent," said Sharlau. "Then we'll meet twice daily throughout the year to assess how their autonomy is working."
"I'm most excited about mastery!" said Sharlau. "I've carved out time each morning to write an individualized To Do list for each staff member's day. The staff member who finishes the To Do list first each day will receive a prize."
With so many new initiatives being introduced, Sharlau has chosen to postpone the focus on purpose.
"I don't want to overwhelm my staff," said Sharlau. "I've always emphasized work/life balance and we need to model it if we want to keep people motivated. Once everyone is in a rhythm of autonomy and mastery maybe we'll consider adding purpose — but I'm not promising anything. You know how staff are. They're already rolling their eyes at this extra Drive work, and you just can't make  people want to work."
Asked how they feel about Sharlau's "Motivation 3.0" strategy, Marconi's academic advisors sounded optimistic.
"I was inspired by Drive and had a few ideas for our staff," said one advisor. "I wrote down a few of my favorites and submitted them in Quinn's new 'Autonomy Suggestion Box' for consideration. I can't wait to see if one or two of them show up on my daily To Do list."