by Con Chapman
Lifestyles Editor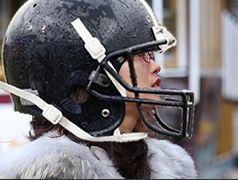 KALISPELL, Montana. Shirley Leung, a slight Asian-American woman who stands 5'4″ and weighs only 110 pounds, would seem an unlikely addition to a college football program on the rise, but that's not the view of Joe Ray Diggs, head coach at Western Montana University.
"Shirley will be a key player for us this season," says Diggs, "even if we don't have a pair of shoulder pads her size."
The Mountain Goats are poised for post-season play with a shot at the Harrall's Chunky Chicken Soup Bowl, but first there's the little matter of NCAA regulations that have tripped up other teams with similar aspirations. "It all comes down to Rule 14.3," says Norbert Winograd, dean of student affairs at WMU. "You have to appear to care about academics or you can lose a valuable football scholarship."
And so with the first kickoff on this fall's schedule approaching, Shirley is a picture of intense concentration as she stretches on the school's new artificial turf field.
"I'm ready for the challenge," Leung says with the grim determination of a split end about to run a crossing route through double coverage. "It's time to make the moo goo gai pan."
Shirley is a star of so-called "institutionals," the 30-second, feel-good public service advertisements about student life off the field that colleges prepare for broadcast during halftime of televised games.
"We're not strong on academics," Winograd says, "so we got some Asians to play actual students in labs."
Shirley is booked from now until the BCS Championship Game next January, and says she has decided to defer her parents' dream—medical school—until she uses up her full four years of eligibility. "I'm making more than I would as an intern right now," she says, "with no student loans."
Shirley dons a white lab coat and a pair of laboratory safety glasses as she listens to Dr. Philip Grenier for some last-minute coaching. "Don't touch the test tubes before the centrifuge stops," he cautions her.
"Got it," she says as she nods her head and prepares to perform an experiment before two cameramen.
"And what's the first rule of fake laboratories?" he asks, giving her a gimlet eye to make sure she's absorbed the lessons of last spring's practices.
"Ummm—I forget," she says with obvious chagrin.
"Goddammit, Shirley!" her coach yells as he slams his headset to the lab floor. "I can't have you going on camera unprepared."
"Give me a hint," she pleads.
"The Bunsen burner?"
"Oh, I know," she squeals as she remembers a rule so basic it's like blocking and tackling for the players. "Sometime things that don't look hot, are hot."