by Jack Snap
Freelance Technology Writer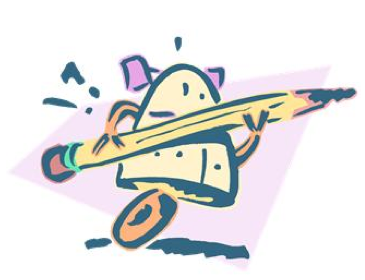 Wielding flashdrives full of studies prepared and evaluated by robots and featuring the writing of incoming college freshmen who used robot Apps to compose their papers, a publisher's representative at The College of the Northsouth has announced the complete erasure of the English Department as outmoded, overpriced and complacent.
Instead, the newly formed department of Online Writing (OW) offers a fresh new approach to the teaching of fundamental skills. In over a century of the traditions of freshman English, professors of other classes still exclaim: "Didn't our students ever learn how to write from their teachers?
The answer has been a resounding no.
Thanks to the new OW approach, help is on the way. OW eliminates full-time faculty and adjuncts alike, replacing both with crafty software pedaled by publisher W-X-Y-Z.
W-X-Y-Z enthralled Dean Deborah Driver and her staff with promises of perks in the future and convinced the college to take out long-term financing for the publisher's product, including its untested editorial checker called SKAMM.
Extensive investigation suggests dubious backers in third-world countries where robots, incidentally, are not (yet) fluent in English. The dean was undaunted this information and now allows the software to do all her editing. In an email she/they wrote:
"OW put pow back in writing and putting us ahead of peering institutions. We stop bad writing. Maybe spy."
Asserting that "it's not just a cash cow but many cash cows grazing on a hillside," John Jenkins, professor of agriculture, looks forward to improved student papers. He he also decided to give the editing feature a try in his email."E-learning where it's at.," he said. "End sentence with preposition? Wait…no-no-no. Maybe robot warming up."
Freshman Becky Bagley could barely restrain her enthusiasm, "OW is like wow i came to college to get away from my parents, and now I'll be able to get away from my professors too that's awesome i sleep with my phone, and i shower with it, and now i can lean anytime I want."
The message degenerated into gibberish. Bagley insisted there must be some mistake.
"How could I send gibberish?" Bagley exclaimed. "That the dip they serve in the snack bar on Tuesday nights. No one can send food through the phone, stupid."
A W-X-Y-Z representative could not be reached for comment.
Faculty dismissed from Northsouth have appealed to a national faculty organization and threatened a walkout before they were reminded that they had been fired. They were then contacted by Northsouth admissions' representatives who urged that they "come back to school to retool. Keep up with times."