by Con Chapman
Lifestyles Guru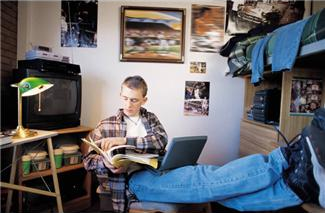 SQUEEHAWKEN, Pennsylvania. On the surface Will Long, a marginal student who was accepted at Pulaski State College despite a less than sterling high school record, appears to have little in common with Amanda Colly, a National Merit Scholar starting her second year at the University of Chicago seven hundred miles away. "I had to get recommendations from three alumni to get in," Long says sheepishly, "and one of them couldn't be your parent."
Despite the difference in academics, location and gender, the two share one attribute of great importance to an undergraduate; a room assignment to die for, courtesy of "Dorm Troopers," a service that helps students and parents achieve victory on a battlefield where success has historically been shrouded in a fog of secrecy.
"We hire only the best," says Norton Morrill, a former Green Beret who numbers Navy SEALS, Army Rangers and even former agents of America's enemies among his employees. "I've got three guys coming on board this fall who were consensus picks for Soldier of Fortune's All-Star Team," he says with pride, spreading a copy of the "Magazine for Mercenaries" on his desk.
In Long's case, a former Marine rappelled up the side of Donziger Hall, a dorm with a view of the Lehigh River, to secure a coveted corner room for a young man who has so far failed to distinguish himself at a school that rarely fails to crack the top ten in the Eastern Pennsylvania Division II Party School rankings. "These kids, I can't say enough about 'em," says Squeehawken Police Chief Errol Bevins. "Drunk and disorderly, operating under the influence, malicious destruction of property—they're a crime-stopper's dream."
In Chicago, Amanda Colly is sitting pretty in a suite with a parlor and view of the quad thanks to former Taliban member Mullah Abdul Ghani, who lay low in a storage closet sleeper cell over the summer, awaiting the signal to strike before infidel invaders from Skokie could assert seniority when dorm doors opened the last week of August.
"I lived on cockroaches, Whoppers malted milk balls and Diet Cokes left behind by dweeby admissions officers," Ghani says in an emotionless voice as he recounts the harrowing life that Dorm Troopers live in the struggle to secure top-flite rooms for their high-paying clients.
How does his current work compare to his past life? "Before, I was a terrorist," he says softly. "This work is much dirtier."
Con Chapman is the author of two novels and The Year of the Gerbil, a history of the 1978 Red Sox. His humor has appeared in The Atlantic, The Boston Globe and on Salon.com, among other places. He blogs at conchapman.wordpress.com.