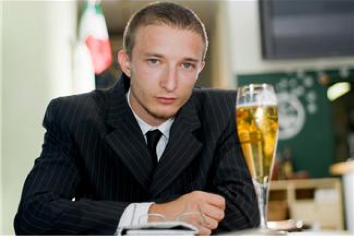 Wallace University business major douchebag Tucker Blake returned last week from a summer-long internship and impressed members of the career services staff with his newfound wisdom and life-awareness.
"We had concerns about Tucker's questionable work ethic and worried he might represent WU poorly in the real world," said Career Counselor Meghan Hallworth. "As it turned out, he seems to have a deeper understanding of how the real world works than any other student we've ever worked with."
"Working with a real boss and real accountability was incredibly eye-opening," said Blake. "It really changed my attitude. I knew in my heart that professors' threats that 'You could never get away with that in the real world' didn't apply to me, but I didn't really know for sure until I saw it in action."
Blake worked in the sales department of General Autos Corporation helping to develop a marketing plan for cost-effective safety features for family cars.
"At first, I acted like a total dweeb," said Blake. "I showed up on time every morning and sat around until the rest of the sales team showed up. Pretty soon I realized that if I came in later no one noticed. Once I finally got a clue and showed up hungover they finally started treating me like one of them."
"Most students head out to internships as naïve students and they return as naïve professionals," said Hallworth. "They don't recognize that supervisors have ceased to supervise and don't take advantage of the opportunities that new "coaching" culture provides. We're so proud of Tucker and his keen insight."
"I have a job offer to return to General Autos full-time when I graduate next year," said Blake. "They said they'd help pay for my MBA and some of the guys in sales said that they'd help me learn all their cheating tricks so I could make it through more easily. The professional world is way better than my idiot professors ever dreamed."