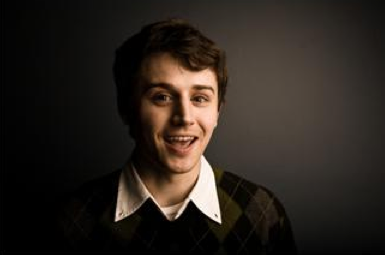 Straight male students at Perry University were collectively disappointed last weekend when effeminate classmate Jacob Ford hosted his hometown girlfriend Charlene "Charlie" McGraw in his dorm room for two nights.
"Jake's been talking about his 'girlfriend Charlie' for months even though we all felt sure he was gay," said Ford's roommate Brandon Cross. "We tried to make him comfortable so he'd come out but we never expected him to drop this cock-block bomb on us."
"When Charlie came to visit we could hear Jake having sex with her," said floormate Connie Aman. "Until then I thought Jake's male friends must be sensitive and dateable but now I don't know what to believe. They're all just a bunch of normal straight guys."
"The fake hometown girlfriend used to be a telltale sign of a student who wasn't ready to self-identify as gay," said campus psychologist Wayne Brandt. "Peers often saw the hometown girlfriend as a target for cruelty. Now straight male students realize that having a gay friend makes them more appealing to straight women."
"Charlene was a complete mojo killer," said straight student Chris Milkens. "A gay friend is a magnet for hot women. If you get a cool gay roommate, it's like winning the getting-laid lottery. This weekend I went from 'sensitive and tech savvy' to 'wimpy gamer' in a matter of hours.
"Revealing myself as openly straight has really hurt my credibility on the floor," said Ford in a public statement after Charlene returned home. "I talked about Charlie all the time before she came to visit, but I guess I can understand the confusion. Hopefully my friends can forgive any perceived deception."
"If Jake thinks we can just go back to 'Modern Family' marathons and Gaga theme parties like before he's got a lot to learn," said Aman. "I was going to ask him to help me pick out a dress for the winter ball. Thank god we caught his hoax in time to avoid that disaster."