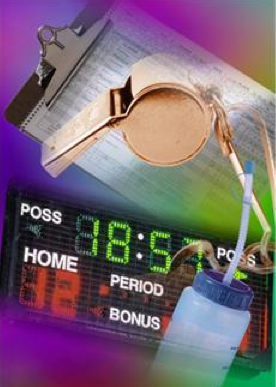 by Con Chapman
Lifestyles Editor
KALISPELL, Montana. Western Montana State is a pre-season pick to finish among the top 25 college football teams in the nation, and the Mountain Goats' rise to prominence is reflected in a spanking-new $5 million scoreboard that saw its first game-day action in September.
"It's a thing of beauty, that's for sure," says head coach Joe Ray Diggs. "I don't know why they had to go and spoil it with poetry."
Diggs refers to a tug-of-war that broke out between booster club sponsors, who footed half the bill for the state-of-the-art improvement that includes instant replay, and a holdout trustee on the school's board, Miriam Clooney, an amateur poetess who dug in her heels as to what she considered a wasteful and extravagant expenditure.
"It's obscene," Clooney tells this reporter, who turns down a copy of her self-published chapbook Defending the Fantods as a potential conflict of interest. "Also vulgar, shoddy, meretricious and jejune."
Clooney was guided in her fight against the scoreboard by elena gotchko, head of the school's low-residency Master of Fine Arts in Poetry program. "we got what we wanted out of them," gotchko says in her characteristic lower-case style. "a level playing field between poetry and football."
In exchange for dropping her resistance, Clooney received a commitment from the WMU Athletic Department that witless scoreboard graphics such as "DE-FENSE" and "MAKE SOME NOISE!" would be alternated with more finespun efforts by gotchko, some of her favorite poetesses and "maybe even Clooney herself," gotchko adds with a condescending smile that reveals a professional poet's scorn for the amateur's efforts.
In WMU's opening game of the season they faced their cross-state rivals, the Eastern Montana Porcupines. After the Mountain Goats were forced to punt following their first possession, gotchko improvised an artful defensive poem based on Robert Frost's "Mending Wall."
wall them in–three and out.
do not ask if they are good neighbors—
they are not.
something there is that doesn't love a ball
that is snapped through the legs
of a porcupine.
mountain goat defense, build not just a fence—
build a wall!
Later, with time running out and Western Montana facing defeat in a game many assumed would be a cakewalk for them, gotchko affected indifference to the outcome in the manner of one of her poetic heroines, Marianne Moore:
I, too, dislike football: there are things that are important beyond
all this fiddle.
Watching it, however, with perfect contempt for it, one
discovers in
it after all, a possible source of funding for my next writer's conference.
Con Chapman is the author of two novels and The Year of the Gerbil, a history of the 1978 Red Sox. His humor has appeared in The Atlantic, The Boston Globe and on Salon.com, among other places. He blogs at conchapman.wordpress.com.