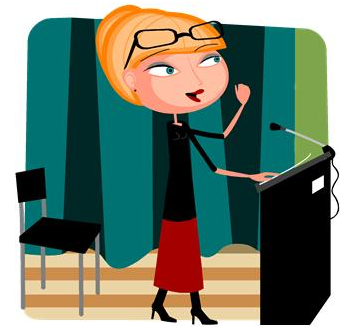 Binghamton, N.Y. Last Thursday, to the cheers and stomps of two thousand students, Elysium College announced its new plan for dormitory improvement. Beaming, in a crimson silk dress, with video displays to either side of her, President Esther Bonnevie told the audience that whoever wanted a luxurious new dormitory room need only sign a petition for the ousting of a professor. "We live in an era of consumer satisfaction," she told the crowd, "in which a creaky wooden seat in a lecture hall cannot compete with a jacuzzi. One of the two has to go."
Bonnevie paused for the cheering and took a sip of water. "Colleges today have a new mission," she resumed. "They are not here to demand of you what you cannot do. They are here to serve you." The shrieking rose so high that even she covered her ears. "Hear me out, good people, hear me out," she protested; the hall grew quiet again.
"Money doesn't grow on data trees." She paused for effect; no one laughed. "The money for your dorms has to come from somewhere. Why not use the salary of a professor whose courses you don't really need? Professors are nice to have. All sorts of things are nice to have. But where do you lie down to sleep at night? Where do you watch TV or enjoy a bubble bath? Not in your professor's class. You spend fifty minutes there three times a week. Your dorm life, by comparison, lasts pretty close to forever, relatively speaking. You deserve to make it good."
After her speech, students swarmed around the tables at the back of the hall to sign petitions. By the end of the evening, all professors had been fired.
"We'll get some adjuncts," said Bonnevie in a phone interview the following day. "But there isn't a huge rush." She explained that all students were now busy arranging their furniture, choosing their curtain colors, and selecting extra services. "They're exercising critical thinking and making responsible choices," she said. "And every dorm building has an indoor swimming pool and rooftop restaurant."
When asked why the students had agreed to this plan so readily, Shari Placer, head of the student council, replied that this was typical of the new generation of college-goers. "We had to submit a video commercial to get into this place, so we expect it to be comfortable," she said. "Think of it this way. Do you think we'd go through all that trouble to look good, if we didn't expect to feel good? No way."
Ernest Trubka, the director of admissions, agreed. "We want to attract students who see college as a route to money, plain and simple," he said. "If we give them material comforts, they'll see money at work. They'll even get a share in the money." Alumni, he explained, would have the opportunity to purchase dorm buildings and rule over them as landlords. "It's a profitable situation for all," he said, "and it keeps the kids motivated."
What will happen to the ousted professors? "There's always the soup kitchen in town," said Bonnevie, "so no one's going hungry. But they'll eat and sleep much better if they find themselves a job."