by Con Chapman
Lifestyles Editor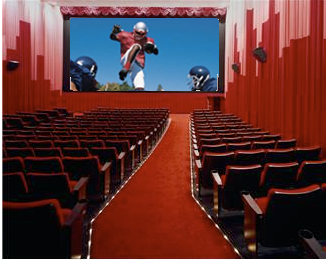 KALISPELL, Montana. Pierre-Claude Vigeant is a Professor of Cinema at the University Maurice Richard in Lyons, France, where American popular films are taken seriously. "So many Americains do not appreciate the rich cultural chili produced by Hollywood," he says with more than a trace of an accent. "It was les Francais who elevated film noir to high art," he says of American detective movies. "It was we who discovered the beauty—the glory—that is Jerry Lewis."
But private eye flicks and Lewis's screwball comedies are by now a well-plowed pasture, Vigeant says. "Scholars of film are like sharks," he says gravely. "If we do not keep moving we die, or become props in a remake of Jaws."
So Vigeant has come to Western Montana University to find the next big thing in American film studies, a quest that brings him to the offices of head football coach Joe Ray Diggs, whom Vigeant has learned is the most avid student of film on campus. "I am told he makes millions, and watches films late into the night," Vigeant says. "He must be the next Steven Spielberg."
Diggs had to be persuaded by the school's president to allow the visiting professor from France to join him in his study of cinematic techniques, and insisted on an iron-clad confidentiality agreement. "I ain't gonna let just any can of Franco-American spaghetti come in here," Diggs says. "My job is to win football games, not shoot the breeze about John-Luke Go-dard."
So Vigeant realizes he is on a short leash as he takes a seat next to Coach, who last year led the Mountain Goats to a stirring come-from-behind win over North Central Arkansas in the Bingo's Pizza Fun Parlors Bowl. "What ees eet you look for in a film such as this?" he asks softly, not wanting to disturb the coach's intense concentration.
"I'm looking for passing lanes," Diggs says, and Vigeant takes copious notes as the coach sits spellbound, as if watching a Hitchcock thriller. "You want to watch what the linebackers do with play-action."
"Play action—thees ees drama?" Vigeant asks.
"You better believe it's drama," Diggs says. "Your good quarterback works like a magician, making people see things that aren't there."
"Umm-hmm," Vigeant says as the coach rewinds a pass play that produces a first down. "So for you, film is seen not so much by the eye as the imagination?"
"You got it, Pierre," Diggs replies, never taking his eye off the screen.
"How much do you pay these people in the film?" Vigeant asks innocently, not knowing the code of the amateur that is strictly applied in the world of American college athletics.
Diggs turns slowly, taking the Frenchmen in with a steely gaze. "You ain't from the NCAA, are you?" he asks suspiciously.
"Why, non," Vigeant replies nervous. I am from L'Université du Maurice Richard. Here are my papers."
Diggs seems mollified by documents the Frenchman hands him then explains his paranoid reaction. "I'm not allowed to pay my performers," he says. "That's the Booster Club's job."