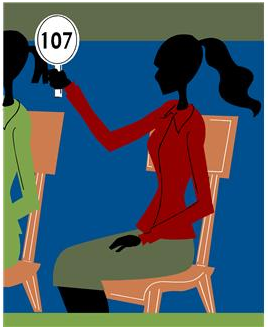 For the past decade, American colleges and universities have been bidding aggressively for sparkling brand slogans devised by wealthy consultants. But no brand has incited such ferocity as has "Hire Education," the latest to hit the auction hall. This afternoon, five colleges offered over two million dollars apiece for the brand; until one bid exceeded the others, crushing the minimum bid increase of ten thousand dollars.
"It's too good to pass up," said Marcy Mirage, development officer at Chestnut College in Lincoln, Nebraska during the bidding. "Hire Education—that says it all. It's a pun, you see, but I think it's a profound one, as in, you go to school and then you're more likely to get hired. Get it?"
"Nobody's gonna wrest 'Hire Education' from us, snapped Jeremy Rotwerk, chief financial officer of Laissez-Faire University in Durham, New Hampshire. "It's ours as soon as we get one of our key alumni to donate to the cause. And it's a noble cause; that's why we have to go for it with our hedge funds and our teeth." Rotwerk paused to answer a call.
Not all prospective students found the brand appealing. "I think it's kind of tacky," confessed Marilyn Echt, a high school senior, who spoke to us by Skype as she sipped her ice cream soda. "I mean, I get the 'hire' thing, but it doesn't work, since 'hire' isn't an adjective."
When we relayed Echt's comment to Mirage, she countered that a brand was just the beginning. "You can't expect kids or even adults to embrace it right away," she explained. "That's the whole point. You've got to inundate them with it. And then before you know it they can't get it out of their heads and they've forgotten all about the grammar issue."
"I suggest the brand 'Fire Education,'" chuckled Evelyn Sage, an adjunct professor of linguistics, English, and philosophy. "Now that has a double meaning. Or triple. Or as multiple as fire can be. The kids should know that just as you can get hired, you can get fired. You can get fired up, too, about learning, regardless of your hire-fire situation. You may even find yourself learning the Lithuanian word for fire, 'ugnis,' and wondering how—"
"Two million three hundred thousand!" boomed the auctioneer, upon receiving the most recent bid from Laissez-Faire. The room was atremble. It seemed that three hundred institutional hopes might soon be dashed – by an invisible hand, no less. But just before the auctioneer said his second "going," an unknown dame of means strode through the doors.
"I have come to save Jejune College with a fraction of my resources," she announced, to the horrified looks of the crowd. "Three million for Jejune it will be." She won on the spot.
We later learned that Jejune had named itself five years ago without knowing the meaning of the word. Great embarrassment ensued; the college's ranking plummeted. Darcy Heath, one of the college's wealthiest graduates and our current dame, had decided to come to the rescue. The college would now be renamed "Hire Education Institution."
Many officials in suits left the auction spitting, swearing, and gnashing their teeth. "We came this close," said one. "This whole thing is rigged," said another.
But their bitterness fizzled when they read on Twitter that bids for the latest brand, "Tassels for Tomorrow," would commence fifteen minutes later.
"We're gonna win this time," said Rotwerk, picking up his pace. "It's gonna happen. I can feel it."