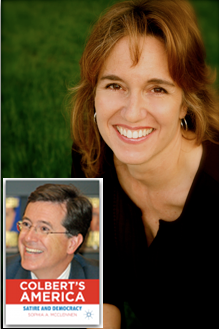 Celebrate the start of your weekend Friday November 16, CronkNews.com introduces its new podcast series "Fridays Are Satiredays."
"'Satiredays' will examine the craft of satire, with a special aim on education," says host Leah Wescott.
The first guest is Sophia A. McClennen, author of Colbert's America. She's a well known writer and social activist, but we're also going to talk to her about her job as professor at Penn State and her days with the Harvard Lampoon when she was in college."
Last year, CronkNews declared November "National Satire Month" to celebrate and bring attention to the genre.
"After satirists saved our souls through what seemed an endless election season, we couldn't resist relaunching the Satire Month campaign," says Wescott. "The time is right to cultivate more brave souls willing to make the world laugh, help us take a look at ourselves and maybe just change."
Join the Friday Fun
Friday November 16
1:00 p.m. eastern time
Link in at podcast site at 12:50 p.m.: http://www.talkshoe.com/tc/124369
Stroke our tender egos by RSVP-ing at our Facebook event.