by Yremia Johnson
Freelance Writer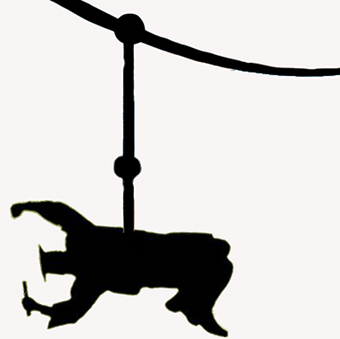 Early this year Metropolitic University administrators began researching methods to reduce the university's dependence of fossil fuels and increase student safety. Through a stroke of true inspiration an elegantly simple solution was found. By fall they had installed an intricate system of over 700 interlocking zip lines to transport students throughout the urban campus.
Students had complained that oncoming vehicles would not yield to jaywalkers, risk management had screamed that too many students were run down while walking to class, and badly needed upgrades to the campus bus system were simply not in the budget. Administrators found their salvation at an outdoor team building retreat. After a wilderness guide mentioned the low cost to install and run zip line systems, he was contracted to install an interlocking system of zip lines allowing students to navigate all 75 campus buildings without ever touching their feet to the ground.
Campus transportation manager Brandi Parker stated, "After seeing the successful implementation of urban zip lines for both the Vancouver 2010 Olympics and Indianapolis 2012 Super Bowl, I had no doubts we could safely install the system in the three weeks we were allotted."
Installing the system was cheaper than upgrading the bus fleet and is projected to cut campus fossil fuel consumption by 87 percent.
According to one happy driver, "Ever since they started 'going green' I figured they would reclassify my job as 'Rickshaw Driver.' Now I have the option to be retrained for Zip Line Operator. I'm so happy I'm finally getting one of those service economy jobs they are always talking about."
Another longtime campus shuttle driver is excited about the change. "I just failed my Department of Transportation physical and was about to lose my commercial driver's license due to high blood pressure. This early retirement offer came just in time!"
Another positive highlighted by campus career services personnel is that the student interns who run the zip lines are gaining valuable work experience that will help them land the coveted amusement park ride attendant jobs so many will compete for after graduation.
"I think it's about time our college started preparing us for the jobs they are actually educating us for," says senior Joy Park. "My disastrous internship with a global consulting company just showed me that my education really isn't welcome in that type of environment."
Classmate Jonny Willis agrees, adding, "I don't have any experience to bolster my accounting degree. Maybe after a few years of doing head counts to fill the zip line I'll be seen as marketable in the financial sector. Same principles at work right? Transferable skills?"
While some parents are concerned about potential safety risks a new report from the Dean of Recruitment shows unexpected jumps in both enrollment and student retention. Administrators insist that increases are not a result from buzz created by the zip line, but reflect successful implementation of effective strategic plans.
The campus vice-president for strategic planning Boyd Lockerman summarized the university's position on the matter.
"Of course prospective students notice the Zip Line system, and of course they list it as a primary reason they are considering our university," said Lockerman. We at the top, however, know the meaning of these survey results cannot be clearly discerned by surface level analysis. Any attempt to derive meaning directly from the surveys would reflect an irresponsible application of blind empiricism. Our administration rejects any form of post-positivist investigation of the Zip Line and insists that the 'clearly overwhelming and statistically significant data' we are being fed by institutional research reflects a poor understanding of post-structuralism's effect on the assessed students' realities. Based on an anthropological interpretation of the survey data, it is clear that students see the Zip Line as a symbol of both social justice and educational excellence. Their exuberance for the Zip Line is thus an emergent ritual through which students express their passion and dedication to the university's high-minded ideals."